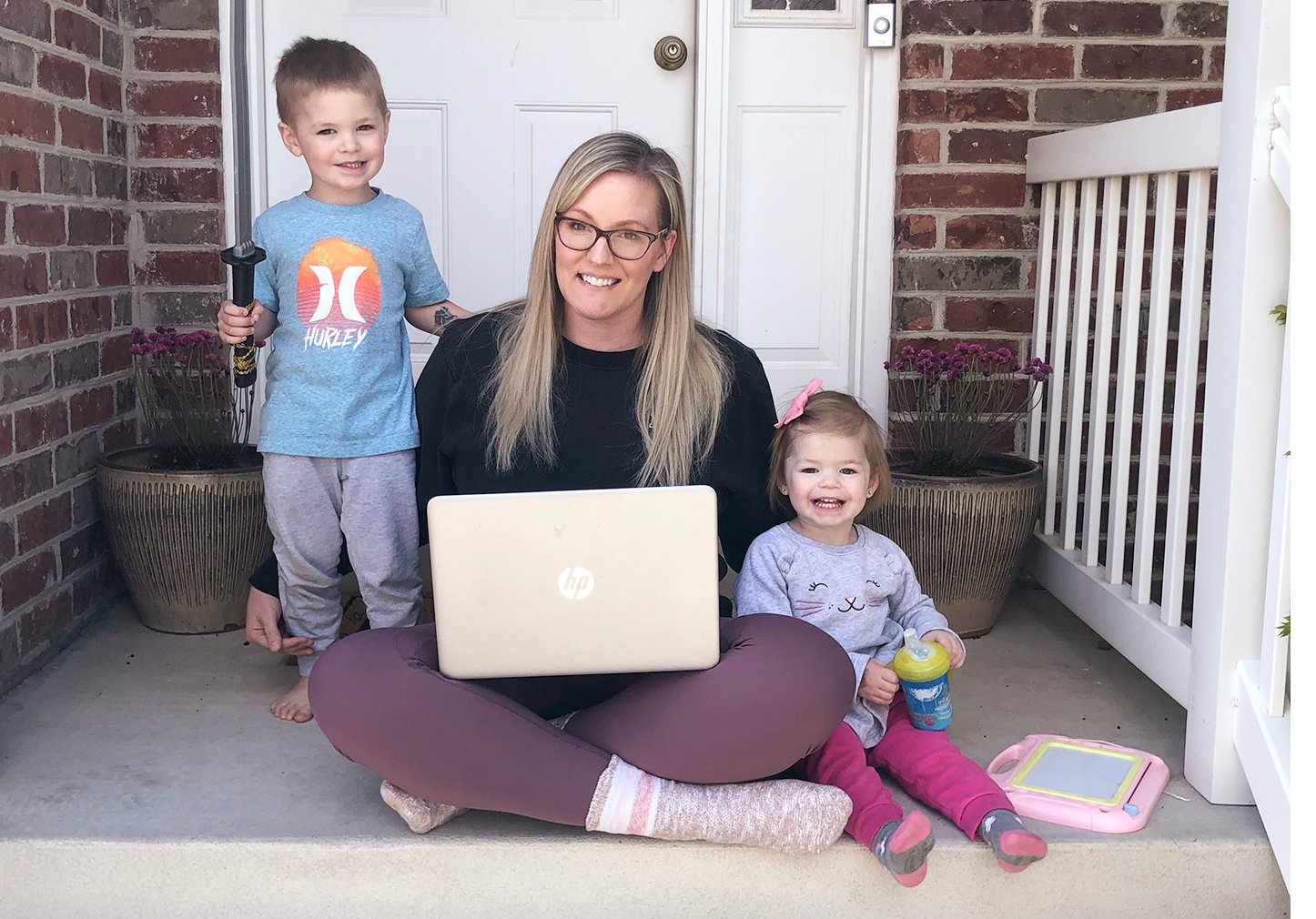 Due to the recent covid-19 pandemic, MarketStar recently sent our entire workforce to work from home. My days are now spent working alongside my family in the safety and comfort of our home. The transition to work from home has some awesome benefits, like zero commute time, my dog at work with me, and maybe the best part — sweatpants! However, it has also brought some unique challenges that are somewhat different from the typical work environment. For example, my co-workers don't usually need me to wipe their faces after lunch.
All families have different challenges in this environment, and they all vary depending on circumstances, but now that we're closing out our fourth week at home, I would like to share some things I have found useful when balancing work from home with family.
Establish Regular Routines
This doesn't just mean make a plan for your day. When establishing a routine, be sure to factor in everyone in your home's schedules and their individual needs and routines.
For example, I have two toddlers at home who take naps every day after lunchtime (hallelujah). I have to make sure I plan time to get them fed and down for naps, then I have about two hours of uninterrupted time I can use to schedule important meetings. This is regularly scheduled time where I need to limit or eliminate distractions. You may have school-age kids that need you to coordinate with their schedules, coordinate use of electronics, and dedicate time to help with schoolwork. Establishing a consistent routine for daily home and work responsibilities helps to keep expectations aligned and everyone in check. It also keeps your work "work" on time and consistent.
Plan Your Days
Planning your day is incredibly important. Once routines are established — a daily huddle with your team, a family member's dedicated time to work or school, etc. — you can fill in the rest of the day. I like to plan for the entire week and each specific day for two main reasons.
First of all, it helps keeps me productive. With so many added distractions at home you can go into the workday feeling aimless, or inversely, overwhelmed. The temptation to shift attention to things like housework or television shows can easily take over. I notice that when I have a plan for the day, I don't even notice the mountain of laundry (mainly consisting of sweatpants) or the newest addition to Netflix.
I make a list for each day, and break it down into different categories to help me adjust my frame of mind when I'm moving between workflows:
PRIORITY

: These are tasks that need to get done today. It could be administrative tasks, follow-up, or something with a deliverable date . I try to keep this list concise, about 3-5 items. This can sometimes grow throughout the day, but wherever possible, I move lower urgency deliverables on the prep or on the following day's priority list.

PREP

: This consists of material or information that I need to prepare for upcoming meetings. This seems to be even more important in a WFH environment. I can easily share a document on a zoom and limit downtime or "dead air" on video calls.

PROJECTS

: These are project tasks. It might be research or planning for projects that I run or contribute to.

BREAK TIME

: Break time? Absolutely! It is necessary to schedule time to stretch, step outside, or to spend a few minutes with my family so we don't get burnt out.
The second reason planning has helped me – and maybe the most important – is it allows me to turn off "work-mode". When I was working in the office, I would straighten my desk and head home at the end of the day. I had different podcasts I would listen to on the way home from work that would help me to flip that "switch" in my mind. In a work from home environment, we don't have some of those same built-in routines. I have found it really helpful to dedicate some time at the end of each workday to unplug. This way I can step away, relax, and enjoy some free time without work swirling in my brain. Making this hard break really helps me switch gears and keeps me from revisiting work before the following day.
Connect with Others
With orders of shelter in place and social distancing being the current norm, the need for human connection is more present than ever. Make it a priority to connect with your team regularly and not just to talk about work-related things. Ask how they are dealing with working from home, social distancing, balancing their family needs, and handling the normal anxiety/concerns that come with all the uncertainty in our world right now. Although there is no substitute for the type of casual interactions in a typical office environment, today's technology gives us options. We have several platforms for video conferencing, standard calls, and online chat that can keep those connections accessible and real.
Even when applying all these tips to our work from home situations, it is important to remember we do have needs outside of work. We are dealing with unprecedented circumstances — which requires flexibility and added understanding. Make sure you are showing compassion, not only to your co-workers, clients, partners, customers, but also show it to your family, and, most importantly, to yourself. Taking extra time to establish routines, plan your days, and connect with others can definitely help you stay sane, but sometimes we have to mix it up, and that's okay. Make time to have fun with your family and cherish these moments you wouldn't otherwise have.
We are all in this together, and I can't wait to see my friends back at the office (hopefully) soon!