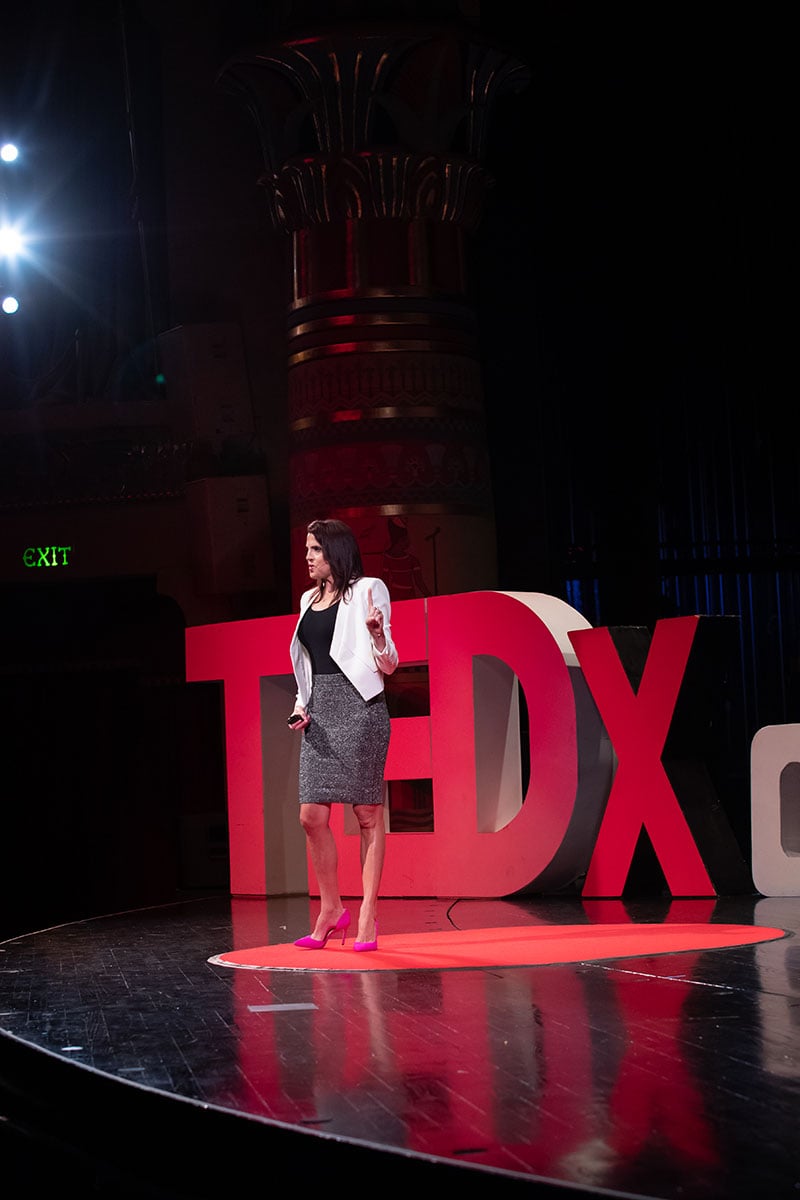 Do you have an idea inside you that feels magnetic enough to change the world — or even one person's world? This is the crux of why so many embrace the vulnerability and the appeal of the TED stage. To change the world.
TED began in 1984, and stands for Technology, Entertainment, and Design. Today it proudly houses a free library of thousands of short talks, from both celebrities (Bono, J.J. Abrams, Bill Gates, James Cameron, Al Gore, and Sting to name a few), and those of us who simply have a burning idea to share. The TED Stage is the gold standard for public speaking and one of the best ways for your voice to be heard both locally and globally.
On June 29, 2019 I had my moment on the TEDx stage and delivered my message to the world. Many have asked me how I got there. Below are the seven grueling steps I took to make this dream a reality:
Pro-bono Public Speaking
Speak every chance you get. From 2013-2020 I did over 50 free gigs. Why? Practice. Speaking in front of others, whether it is a client or a youth group, allows you to improve with each opportunity. You will learn timing, how to read the audience, and when to mic drop.
TEDx Speaker Application
Each year TEDx looks for great local speakers to join their event. TEDx was formed to hear voices from local groups, independently run using a TED-style format, and on a backbone of volunteers that are passionate about the platform. To date there have been 30,511 TEDx events. The process includes an application, a video submission, and being hyper-focused on what your idea is and how you will share it with the audience. In most cases there are hundreds of people that apply for 6-8 TEDx slots.
The TEDx Panel Interview
The panel interview is meant to grill you on your idea. However, nothing prepared me for how difficult this stage of the process would be. I assumed the interview would be fun and light — casual. It wasn't. Instead, I sat in front of a tough group of TEDx volunteers, all of whom wanted the absolute best speakers for the event. 10 minutes after the interview started, it was over. I left with a pit in my stomach wishing I had given better answers to their questions. The feeling sunk into my soul and stayed with me for days. I was certain the chance to speak on the TED stage had passed me by.
However, a few weeks later I was informed I was selected for the TEDx Ogden 2019 lineup! It was a moment like no other! The excitement rained over me all day long!
100 Hours of Practice
I received advice early on in the process: memorize your talk, and don't read the slides. As a single parent, every minute of my time is categorized and accounted for during the day. So, I had to invent new time in the day to write, then practice, then memorize my 10-12 minute speech. The gym became my place to sort out the through line, or big idea, I intended to share. My commute to work was my new daily hour of practice. My kids' friends became my audience while I cleaned and did other chores. What was fueling this insane amount of practice? The desire to do my best.
Extra Effort
Just weeks before my TEDx talk, I had an idea. One that I couldn't do alone. I shared my idea with Mason Allen, video guru, and immediately he was on board. He turned my idea into art. Within days we were filming what would end up being the grand finale and final minute to my speech. The most impactful and emotional ending to a story I was terrified to share. Additionally, Brenda Anderson volunteered to put my slides into a colorful deck, customized just for me. They were the perfect backdrop to my story!
Putting Your Best Heel Forward
The only real moment in the universe, is the one that is right before you. Everything else lives in the past or in the future. For one night I felt a string of moments so powerful and strong, so supportive and true, that my heart still smiles at the after effect. Walking out onto the trademark red circle, I gave myself a pep-talk, just be you and have fun. Then thought about what my friend David Rivas had texted me just an hour before going on stage, "You are an intelligent, inspiring and powerful woman, Amy Wilde. You got this."
I delivered, without question, my best speech, ever. How? Preparation paralleled with the unending support of friends and family and co-workers which gave my TEDx talk wings. As I ended, and spun on my pink heels to walk offstage, I felt the roar of energy behind me, and I knew it had all been worth it.
Saying it Louder
The gift that TED provides is a YouTube video that can be shared and watched from every corner of the world. My goal was, and continues to be, a voice for those who have lived and walked the same path I am walking. Within days of my TEDx Ogden video going live: The Powerful Significance of One, there was an audible buzz on the internet, with the video showing up in cleft lip and palate groups I was completely unaware of.
There are no coincidences.
In December of 2019 I met with the VP of Smile Train in NYC, who prior to meeting me said of my TEDx talk, "You have inspired me. I have worked for Smile Train for 18 years and this made my day. I literally was on my way to the gym and found myself so caught up in your story that I stood still and watched in start to finish." As a result of that meeting I am now an ambassador for Smile Train, working to promote my passion and platform alongside the largest cleft lip and palate charity in the world.
There is no easy way to make it to the TED or TEDx stage. That said, the process is meant to invite anyone who has an idea worth sharing, willing to take a risk, tell their story, and make an impact.