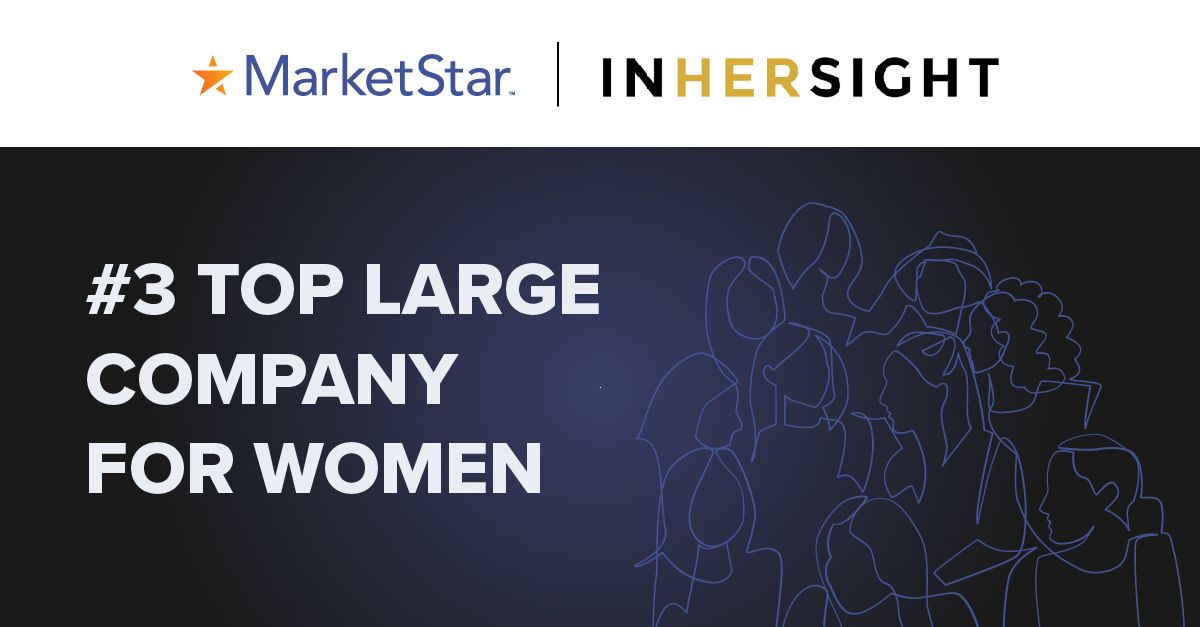 Ogden, Utah (March 28, 2023) MarketStar, the global leader in full-funnel outsourced sales solutions, has been recognized by InHerSight, as one of the top large employers for women. InHerSight is a website that provides visibility into a company's workplace culture and its commitment to empowering women. InHerSight gathers employee feedback on factors like equal opportunity practices, women in leadership roles, career development programs, employee resource groups supporting women, paid time off, and parental leave, to name a few.
MarketStar was rated highly by employees in several key areas, including its supportive leaders, work-life balance, and resources to empower women. In addition, employees praised the company's commitment to providing opportunities for growth and development.
"We are honored to be recognized by InHerSight for our commitment to creating a workplace culture that empowers and supports women," said Keith Titus, MarketStar President and CEO. "Our employees are the heart of our business, and we are proud to stand by our female employees and to provide them with tools, resources, and opportunities to grow and thrive in their careers. This recognition validates our efforts and inspires us to continue fostering an enabled, supportive, and innovative workplace for all our employees."
At MarketStar, employees are encouraged to develop their skills and pursue growth by living the company's six core values. MarketStar supports career growth by providing employees with a range of training and leadership development programs, as well as opportunities for career advancement. Additionally, MarketStar offers a competitive benefits package, including health, dental, and vision insurance, paid parental leave, mental health resources, family planning benefits and fertility services, 401(k) matching, and paid time off.
"We will continue to 'Live the Six' values that have built a culture where employees can perform at their best and deliver outstanding results for our clients," Titus said.
Being recognized as a top large employer is a nod to MarketStar's commitment to an inclusive workplace that provides equal growth opportunities for all. As the company continues to evolve and grow, it remains committed to creating growth for its employees, clients, and communities in the years to come.
# # #   
ABOUT MARKETSTAR 
Through innovative sales solutions, MarketStar (www.marketstar.com) accelerates sales from lead to recurring revenue with business-to-business (B2B) direct and indirect sales programs. Utilizing a blend of voice, digital, and field engagements, MarketStar has launched, sold and supported thousands of products and services on behalf of the biggest and most innovative companies across the globe. Founded in 1988, MarketStar pioneered the sales outsourcing industry and today has over 1,600 employees worldwide. Their global headquarters is located in Ogden, Utah.