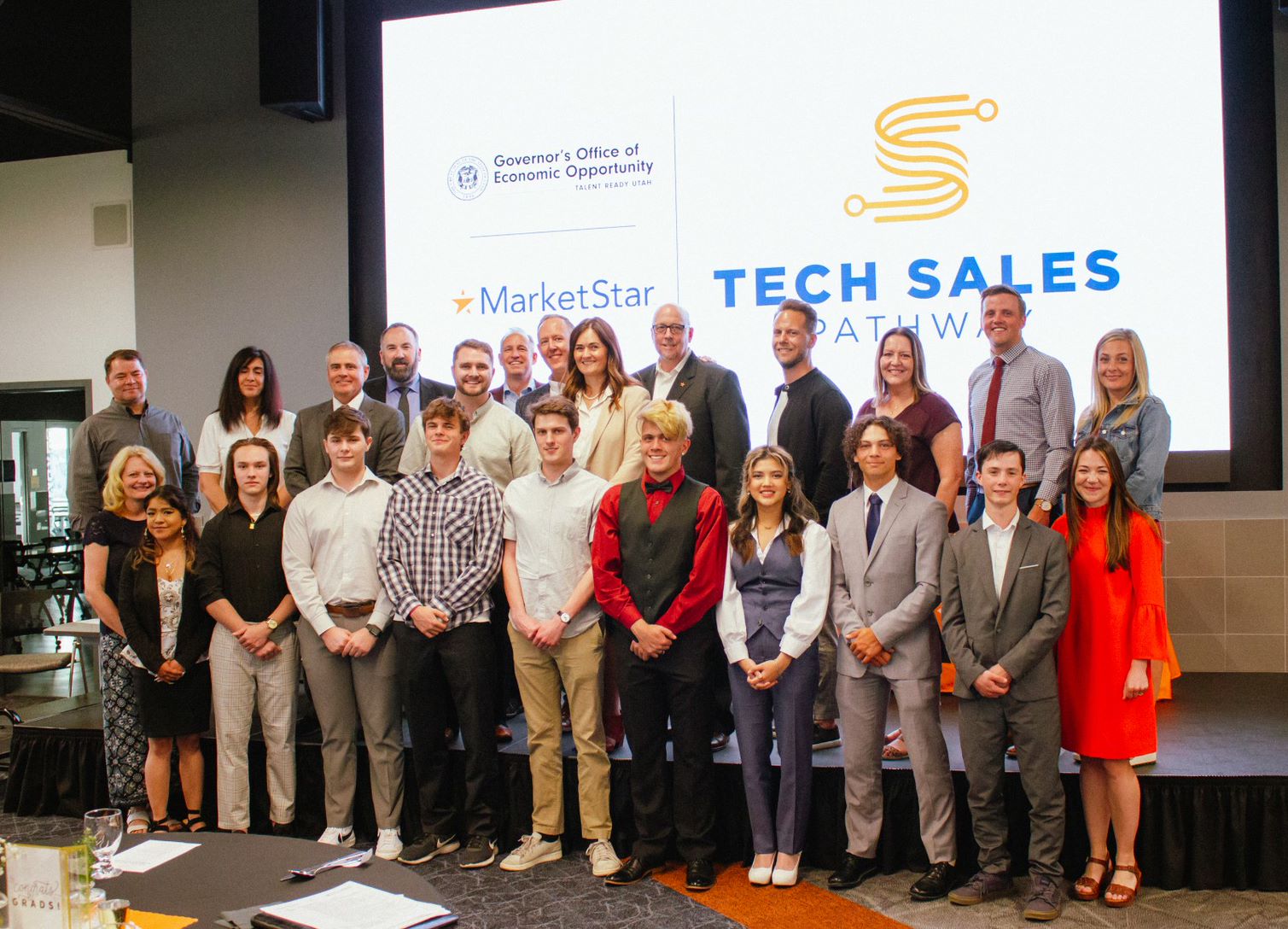 Ogden, Utah – May 24, 2022 – Talent Ready Utah and MarketStar, in partnership with Davis, Ogden, and Weber School Districts, Davis Technical College, Ogden-Weber Technical College, and Weber State University, are pleased to announce the graduation of the first cohort of students from the Tech Sales Pathway, a work-based learning program that prepares students for a career path to sales roles in social media, SAAS, digital ads, IT, and cloud services.
Throughout the semester, students spent roughly 80 hours in the classroom and at MarketStar, gaining hands-on experience with tech sales while receiving mentorship from MarketStar's sales leadership team. Upon completion of the program, students earned an industry-recognized certificate and a job interview with MarketStar, providing them an accelerant into a high-demand career with the potential to work with globally recognized companies.
"Investing in the skill development of our students is one of the most impactful ways we can support their growth and future success," said Keith Titus, President and CEO of MarketStar. "We are proud to empower students in our community by providing them the opportunity to gain first-hand experience and mentorship as they explore the many career options within the field of sales."
The Tech Sales Pathway program complements students' concurrent enrollment courses in business and sales offered through Davis and Ogden-Weber Technical Colleges and Weber State University. This alignment with Utah's higher education provided students a variety of options to simultaneously gain the technical skills needed to succeed in their career path while complementing the work-based experience they gained at MarketStar.
"There's a growing need for talent in sales as businesses across industries adopt new technology. We can better prepare the younger generation for future careers through work-based learning and education programs," said Dan Hemmert, Executive Director of the Governor's Office of Economic Opportunity. "The development of programs, like the Tech Sales Pathway, addresses the talent needs of businesses while strengthening Utah's educational programs and growing Utah's labor force."
High school students interested in work-based learning can enroll in the Tech Sales Pathway with the next class beginning in the Fall of 2022. If you are interested in learning more about the program and other opportunities available, please visit: https://business.utah.gov/tru/tech-sales-pathway/
About the Utah Governor's Office of Economic Opportunity (Go Utah)
Under Gov. Spencer J. Cox's direction, the Utah Governor's Office of Economic Opportunity (Go Utah) provides resources and support for business creation, growth, and recruitment. It also drives increased tourism, film production, and outdoor recreation in Utah. Talent Ready Utah, an initiative managed by Go Utah, develops industry and education partnerships to help build Utah's workforce. Utilizing state resources and private sector contracts, Go Utah administers programs in economic areas that demonstrate the highest potential for development and the most opportunity for Utahns. Learn more at business.utah.gov or by calling (801) 538-8680.
About MarketStar
Through outsourced customer engagement solutions, MarketStar accelerates growth from lead to recurring revenue with business-to-business (B2B) sales and customer success programs. Utilizing a blend of voice, digital, and field engagements, MarketStar has launched, sold, and supported thousands of products and services on behalf of the biggest and most innovative companies across the globe. Founded in 1988, MarketStar pioneered the sales outsourcing industry and today has more than 1,750 employees worldwide. To learn more, visit www.marketstar.com.