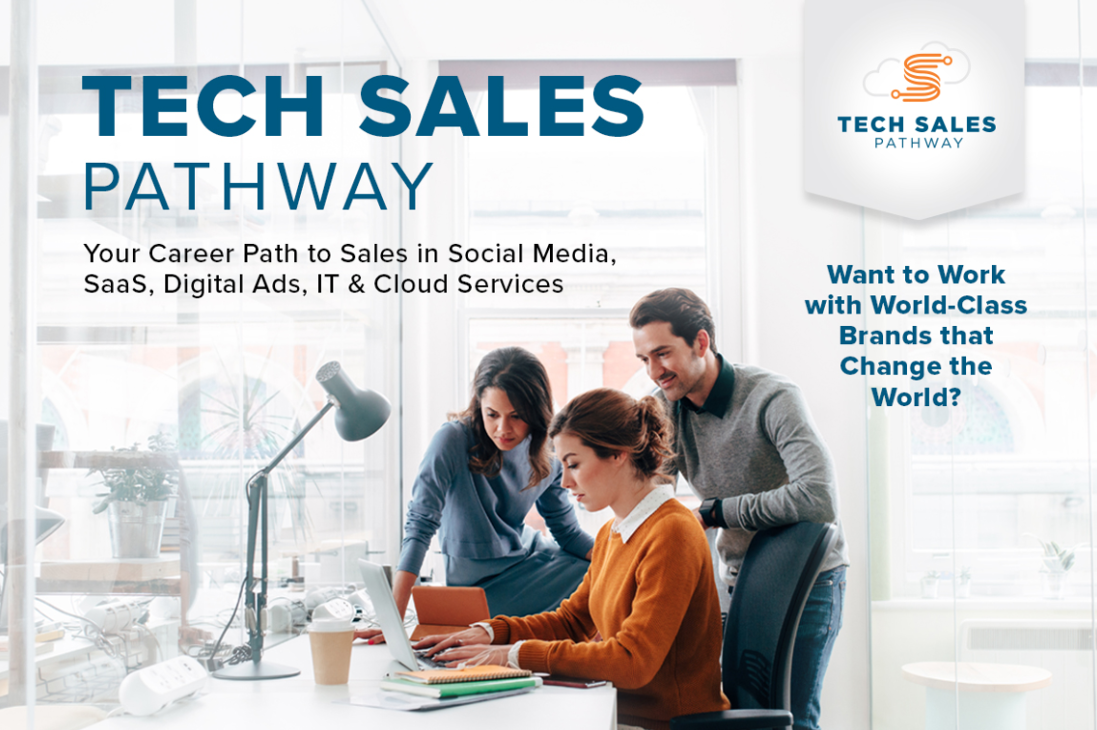 OGDEN, UT (September 21, 2021) – MarketStar, in partnership with Talent Ready Utah, Davis Technical College, Ogden-Weber Technical College, and Weber State University, is pleased to announce the launch of the Tech Sales Pathways program in Davis, Ogden and Weber School Districts. MarketStar will lead the efforts to offer this newly developed work-based learning program providing students a career path to sales in social media, SAAS, digital ads, IT, and cloud services.
"There's a growing need for talent in sales as businesses across industries adopt new technology. Through work-based learning programs, we can better prepare the younger generation for future careers," says Dan Hemmert, Executive Director of the Governor's Office of Economic Opportunity. "The development of work-based learning programs addresses the talent needs of businesses while strengthening Utah's educational programs and growing Utah's labor force."
High school students can enroll in courses as early as their sophomore year to prepare for MarketStar's internship program. MarketStar internships have been designed to complement classroom learning, optimizing the student learning experience through interactions with employers to develop skills in business-to-business sales. Upon completing the Tech Sales Pathways program, students earn an industry-recognized certificate guaranteeing a job interview with MarketStar, increasing access to high-demand careers with name-brand companies.
"We are proud to support the Tech Sales Pathways program and provide students the opportunity to apply the skills they learn in the classroom in a business environment at MarketStar," says Keith Titus, MarketStar President and CEO. "As a leader in the sales industry, we look forward to helping students explore and grow careers in sales by leveraging the skills and expertise of our exceptional people and access to world-class brands."
Students in Northern Utah will have access to concurrent enrollment courses offered through Davis and Ogden-Weber Technical Colleges and Weber State University, leading to credential and degree programs in business and sales. The alignment between Utah's educational programs provides students multiple entry and exit points to valuable work experience and continued education opportunities, preparing individuals with the technical and professional skills needed to succeed in their career path while meeting industry's talent needs.
"There are many advantages to pairing a student's education with real-world experience as they advance in their educational learning and career, and the Tech Sales Pathways program provides students a path to take their first steps toward careers in Sales," says Dr. Brock Adams, Director of the Alan E. Hall Sales Center, Weber State University. "MarketStar has been a long-standing community partner, and we welcome their continued involvement and partnership with our educational programs to connect students with careers that await them along their educational pathway."

To learn more about the Tech Sales Pathways program, visit business.utah.gov/talent-ready-utah/tech-sales-pathway/.
# # #
About MarketStar
Through innovative customer engagement solutions, MarketStar accelerates growth from lead to recurring revenue with business-to-business (B2B) sales and customer success programs. Utilizing a blend of voice, digital, and field engagements, MarketStar has launched, sold and supported thousands of products and services on behalf of the biggest and most innovative companies across the globe. Founded in 1988, MarketStar pioneered the sales outsourcing industry and today has more than 1,400 employees worldwide. To learn more, visit www.marketstar.com. 
About the Utah Governor's Office of Economic Opportunity (Go Utah)
Under Gov. Spencer J. Cox's direction, the Utah Governor's Office of Economic Opportunity (Go Utah) provides resources and support for business creation, growth, and recruitment. It also drives increased tourism, film production, outdoor recreation, and mixed martial arts in Utah. Talent Ready Utah, an initiative managed by Go Utah, develops industry and education partnerships to help build Utah's workforce. Utilizing state resources and private sector contracts, Go Utah administers programs in economic areas that demonstrate the highest potential for development and the most opportunity for Utahns.