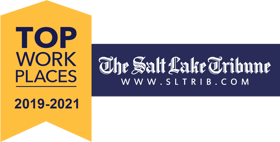 OGDEN, UT (November 4, 2021) – MarketStar has been awarded the Top Workplaces 2021 honor by The Salt Lake Tribune. The Ogden-based Sales as a Service company employs more than 1,500 employees globally, with more than 1,000 in the state of Utah. With over 50 clients worldwide, MarketStar accelerates growth through providing outsourced sales and customer success solutions to many of the world's most innovative tech companies.
"Our employees are truly incredible and we are proud to have a team made up of some of the most intelligent, passionate people," said Keith Titus, MarketStar's President and CEO. "Through living our core values each and every day, our employees have cultivated a culture where everyone belongs and cares deeply about each other, our clients, and our communities. Receiving recognition as a top workplace for the third year in a row is a true reflection of our people who make MarketStar a great place to work."
The Top Workplaces list is based solely on employee feedback gathered through a third-party survey administered by research partner Energage, LLC, a leading provider of technology-based employee engagement tools. The anonymous survey uniquely measures 15 culture drivers that are critical to the success of any organization, including alignment, execution, and connection, to name a few.
"During this very challenging time, Top Workplaces has proven to be a beacon of light for organizations, as well as a sign of resiliency and strong business performance," said Eric Rubino, Energage CEO. "When you give your employees a voice, you come together to navigate challenges and shape your path forward. Top Workplaces draw on real-time insights into what works best for their organization, so they can make informed decisions that have a positive impact on their people and their business."
A member of the Wasatch Group, MarketStar has their global headquarters in Ogden, with additional offices in downtown Salt Lake City and in Dublin, Ireland. By providing dedicated sales and customer success teams for some of the world brightest tech brands, MarketStar employees build their careers while selling for companies that change the world.
# # #
About MarketStar -- Through innovative sales solutions, MarketStar accelerates sales from lead to recurring revenue with business-to-business (B2B) direct and indirect sales programs. Utilizing a blend of voice, digital, and field engagements, MarketStar has launched, sold and supported thousands of products and services on behalf of the biggest and brightest companies across the globe. Founded in 1988, MarketStar pioneered the sales outsourcing industry and today has over 1,500 employees worldwide. Their global headquarters is located in Ogden, Utah.
About Energage, LLC -- Headquartered in Exton, Pa., Energage is a leading provider of technology-based employee engagement tools that help leaders to unlock potential, inspire performance, and achieve amazing results within their organizations. The research partner behind the Top Workplaces program, Energage has surveyed more than 58,000 organizations representing well over 20 million employees in the United States.