Industry Leader's New E-Book Details Framework That Can Transform Sales Processes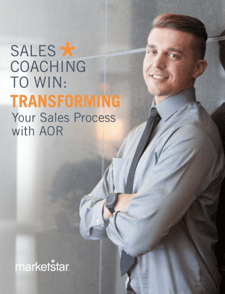 Ogden, UT—August 3, 2018 —MarketStar, the industry leader in outsourced sales and marketing, today announced it is publishing a guide detailing the benefits of an AOR selling approach. The e-book, Sales Coaching to Win: Transforming Your Sales Process with AOR, is available for free download at www.marketstar.com/sales-coaching-to-win-transforming-your-sales-process-with-aor.
All businesses want to accelerate sales growth, but many are unsure of how to effectively manage the sales process. Sales managers continue to create sales targets for their representatives, while sales reps complain that either they don't have the right tools to meet their sales goals or the goals are unrealistic. The AOR (activities, objectives, results) selling framework puts sales teams on the right path and enables them to gain greater control over team performance. MarketStar's new e-book shows how to construct an AOR framework as a sales accountability platform to motivate sales teams and generate measurable results. Features of the guide include:
A detailed description of what AOR entails
How AOR is changing the sales landscape
How businesses can benefit from an AOR sales program
Four measurements of AOR selling success
"Building a sales process based on well-defined AOR will transform your business, as well as your sales team," says Phil Mickey, MarketStar's Director of Marketing. "When properly executed, AOR selling formalizes the sales process and provides a rhythm for both sales management and sales activities. Our new guide explores everything AOR and how this approach can improve and maximize your sales processes."
To learn more about this e-book or MarketStar's innovative solutions, visit www.marketstar.com.
About MarketStar
MarketStar is the industry leader in outsourced retail, partner, and direct sales motions for the world's leading and emerging companies. MarketStar engages consumers, channel partners, and business-to-business buyers to increase sales by deploying field and inside sales teams, enabled by best-in-class technology and insights. MarketStar is a part of the DAS Group of Companies. For more information, visit www.marketstar.com.