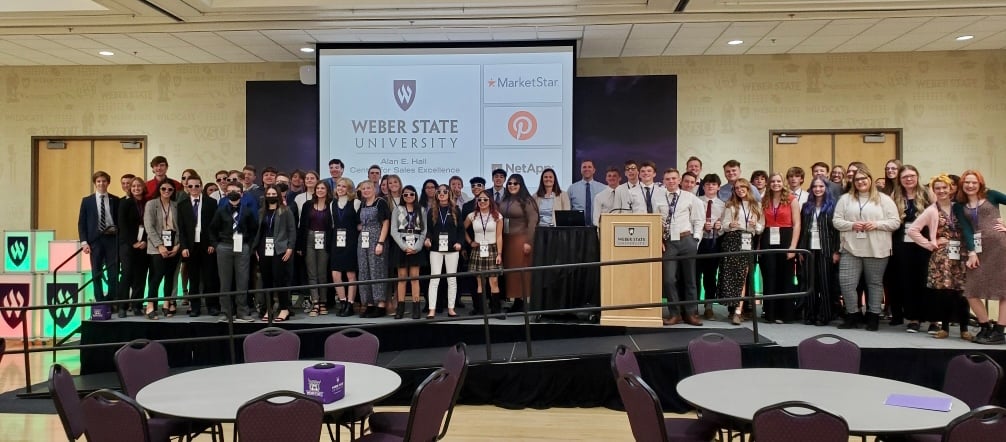 OGDEN, UT (December 9, 2021) – MarketStar and Weber State University teamed up to launch the Sales Skill Challenge, a competition where over 80 students from 11 high schools along the Wasatch Front had the opportunity to compete in various sales competitions for cash awards and scholarships. The competition, sponsored by MarketStar and hosted by the Alan E. Hall Center for Sales Excellence at Weber State, is the first of its kind in Utah, advancing the skills of high school students and promoting career and college readiness in the Tech Sales Pathway program, launched earlier this Fall.
"MarketStar is committed to creating growth experiences for students by leveraging the skills and expertise of our exceptional people, access to world-class brands, and the resources of our Foundation to expand educational opportunities," said Danette Pulley, Vice President of Community Growth at MarketStar. "By creating a sales skill competition for high school students, we are connecting their classroom knowledge with skill development experiences to spark enthusiasm for their personal career potential."
Students competed in individual speed-selling and team-selling events. During the speed-selling event, students had 60-90 seconds to pitch their personal story and share why they should be considered for an academic scholarship. For the team competition, students represented Pinterest as digital advertising sales teams and pitched why a Pinterest campaign would be an effective marketing tool for small businesses. Both of the events were designed to help students develop interpersonal selling and persuasion skills, both of which align with the Tech Sales Pathway.
"Our team was blown away at the level of talent of the high school students that participated in the sales competition." Said Ali Mitchem, MarketStar Senior Business Operations Manager on the Pinterest team. "They truly brought their A-game, and it was incredibly difficult for our judges as every team was prepared to showcase their expertise!"
The team-selling event winners received a cash award for their pitches. The first-place team from Weber High School received $1,500, the second-place team, also from Weber High School, received $1,000, and the third-place team from Fremont High School received $750. Individuals who placed in the speed selling event received $500, $250, and $100 for their respective placing. All students who placed in the team-selling and the speed-selling competition received a $1,000 scholarship from the Alan E. Hall Sales Center.
"High school kids love the challenge of competition." Said Dale Pollard, the DECA coach and advisor from Fremont High School. "It allows them to display just how much they know, how well prepared they are for their career, and how seriously they take their future."