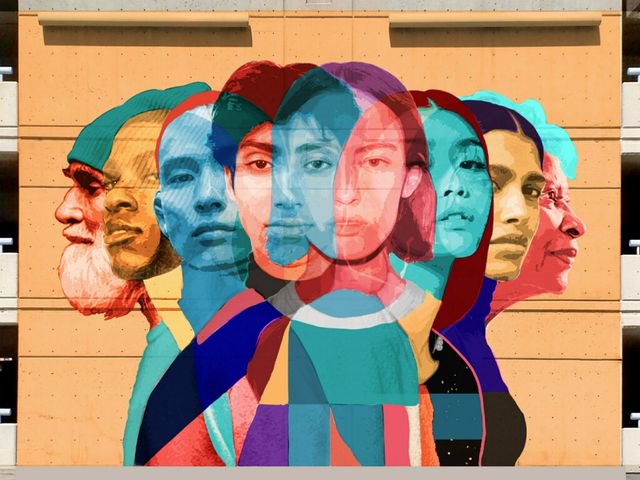 OGDEN, UT (August 6, 2021) – MarketStar, the leader in outsourced business-to-business revenue acceleration, and one of Ogden's largest private employers, teamed with the Ogden Downtown Alliance and local artist Cole Eisenhour to present "You Belong," a new painted mural in downtown Ogden.
The 35' x 35' mural, painted on the south side of the parking structure located at 2424 Kiesel Avenue, behind MarketStar's headquarters, is representative of MarketStar's dedication to building and maintaining an inclusive culture within the communities in which the 33-year-old company does business. The theme of the mural, "You Belong," is taken from one of the company's six core values.
"MarketStar is built on a culture where we embrace diverse backgrounds, promote the best ideas, and encourage diverse points of view – much like the city of Ogden, our global headquarters," said Danette Pulley, Executive Director of the MarketStar Foundation. "This mural is just one way we can show our communities that we are committed to putting our values into action and helping build a sense of belonging for everyone with whom we work and share communities."
The mural, painted by Roy, Utah native Cole Eisenhour, was selected from 13 different submissions, all tasked to demonstrate belonging and inclusion in a modern society. It was important to the selection committee, made up of representatives from Ogden City Arts Advisory Committee, MarketStar, and the Ogden Downtown Alliance, that the design "feel" like Ogden and represent the value it portrayed. The final design submitted by Eisenhour was chosen because of his vision and how he was able to represent the importance of diverse perspectives and a sense of belonging that the committee wanted to see.
"My vision highlights the importance of various perspectives and experiences within our society," said artist Cole Eisenhour. "I feel it's crucial to acknowledge the value in diverse viewpoints and use this to better understand one another. I hope this mural may inspire viewers to be more empathetic and accepting of others in their everyday life."
The mural represents a commitment for MarketStar and it's more than 1,400 global employees. The company has transitioned to a fully distributed workforce, with more than 900 living along the Wasatch Front, and many who live, work, and play in Ogden. The mural is the first of many community-oriented projects the company has in store for their communities this summer but is significant because of the partnership it represents with the company's home city of Ogden. MarketStar partnered with the Downtown Alliance to make the mural a reality.
"As we come out of a challenging year of remote work and what felt like a long separation from human connection, we feel that this mural, and the location in particular, is an incredible welcome back message to our whole community," said Kim Bowsher of the Ogden Downtown Alliance. "We are thrilled to have MarketStar as our partner on this project. Together, with additional downtown program funding from RAMP, we all share in the mission of creating a community of inclusion with a vibrant downtown that welcomes everyone. We are so excited about what this means as we can again host large scale events in downtown, including Twilight which is directly across the street. We're demonstrating our values in action."
The final product, which took more than six weeks to complete, will be presented to the Ogden community in a special ceremony hosted by MarketStar CEO Keith Titus and many of MarketStar's local employees. The presentation, scheduled for 6 p.m. on Friday, August 6, will feature remarks by the MarketStar Team, Cole Eisenhour, and Kim Bowsher from Ogden Downtown Alliance. Live music and food trucks will be in and around the presentation, which is open to the public. The presentation is also part of the Ogden City First Friday Art Stroll, beginning at 6 p.m.
# # #
ABOUT MARKETSTAR
Through innovative customer engagement solutions, MarketStar accelerates growth from lead to recurring revenue with business-to-business (B2B) sales and customer success programs. Utilizing a blend of voice, digital, and field engagements, MarketStar has launched, sold and supported thousands of products and services on behalf of the biggest and most innovative companies across the globe. Founded in 1988, MarketStar pioneered the sales outsourcing industry and today has more than 1,400 employees worldwide.
ABOUT OGDEN DOWNTOWN ALLIANCE
The Ogden Downtown Alliance is committed to increasing economic vitality and community vibrancy throughout Ogden's Central Business District. We support local commerce through placemaking, destination marketing, focused community programming and events. We create and promote a dynamic epicenter for arts, entertainment and cultural experiences in Ogden's downtown.