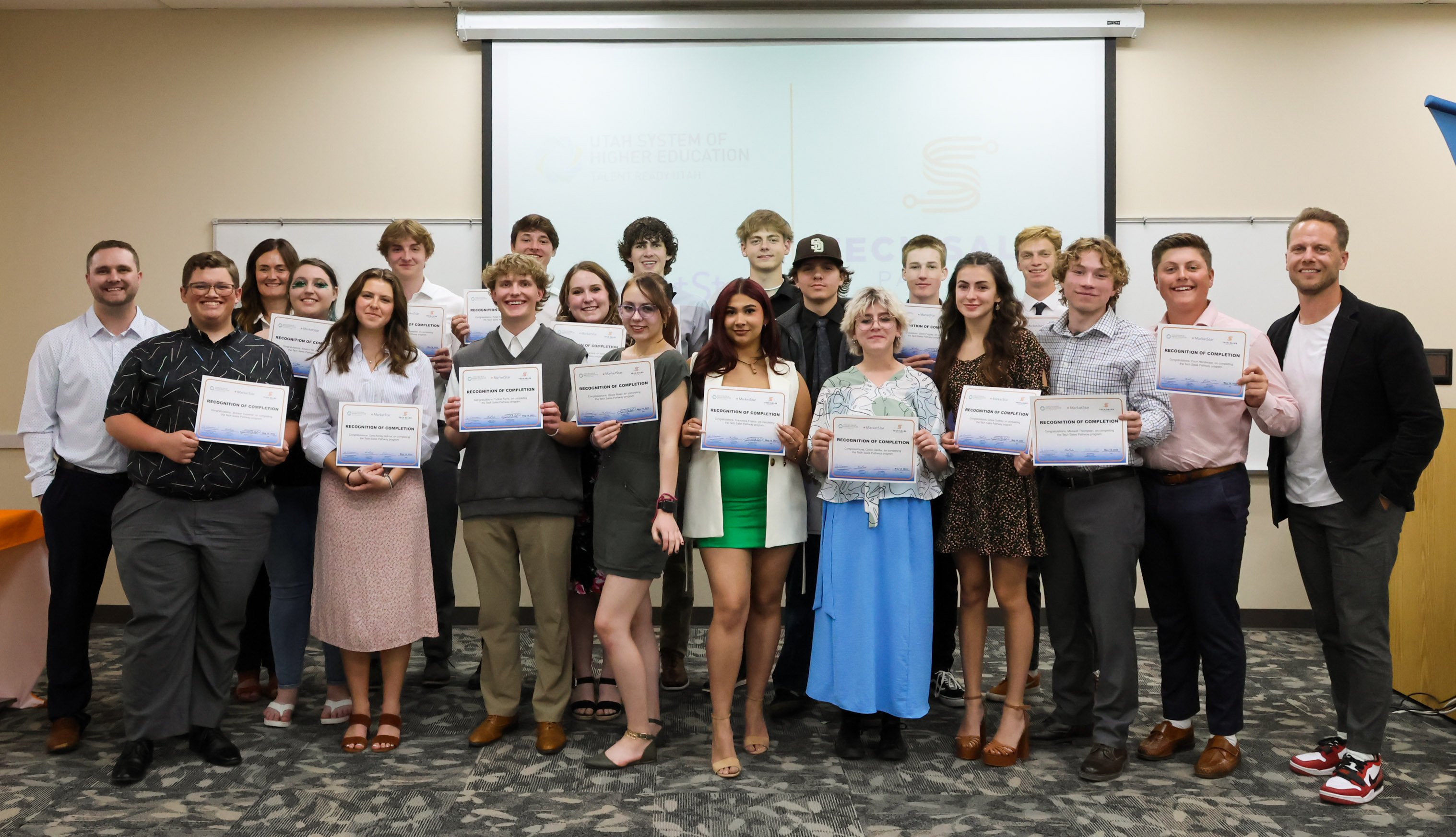 The MarketStar Foundation is pleased to announce the graduation of the second cohort of 23 students from the Tech Sales Pathway. This work-based learning program prepares students for a career path to sales roles in social media, SAAS, digital ads, IT, and cloud services. The program is made possible through a partnership with Talent Ready Utah, MarketStar, and schools in the Davis, Ogden, and Weber School Districts, Davis Technical College, Ogden-Weber Technical College, and Weber State University.
Throughout the semester, students spent 80 hours at MarketStar gaining hands-on experience with tech sales while receiving mentorship from MarketStar's sales leadership team. Collectively, they have spent:
690

hours of hands-on learning

575

hours of sales education

460

hours receiving mentorship and coaching

115

hours of professional / career development
The Tech Sales Pathway program is facilitated by Derek Fletcher, Community Growth Program Manager for the MarketStar Foundation. The hands-on industry experiences for students are made possible with the help of employees across MarketStar. Together, they design projects and provide coaching or mentoring for students, investing an average of 90 hours per student over the course of the program and roughly 2,054 total hours spent training these future leaders.
The Fall cohort consisted of nine students who shadowed and received mentorship from MarketStar employees who work on the Reddit, Netgear, Ball Corp, PagerDuty, Google Hardware, and Logitech teams. In addition, they attended a MarketStar-sponsored high school sales competition hosted at Weber State University, and identified 2,139 leads for our Google Chrome team.
The Spring cohort consisted of fourteen students who worked in six unique project-based learning modules and were able to produce sales tools and practice skills directly with our client teams. Some examples of their work include:
15 sales email templates generated with the Google Cloud ISV team
5 customer personas identified for Pinterest
6 sales training videos developed with PagerDuty
5 sales reference resources were produced for Veritas Technologies & Commvault
2 innovative approaches identified for selling a product with Reddit
1,749 Leads Identified for Aisera
Upon completion of the program, students earned an industry-recognized certificate and a job interview with MarketStar, providing them an accelerant into a high-demand career with the potential to work with globally recognized companies. The students are eager to work at MarketStar after learning in this environment, with four already in the application and interview process.
"Investing in the skill development of our students is one of the most impactful ways we can support their growth and future success," said Keith Titus, President and CEO of MarketStar. "We are proud to empower students in our community by providing them the opportunity to gain first-hand experience and mentorship as they explore the many career options within the sales field."
The Tech Sales Pathway program complements students' concurrent enrollment courses in business and sales offered through Davis and Ogden-Weber Technical Colleges and Weber State University. This alignment with Utah's higher education provided students with various options to simultaneously gain the technical skills needed to succeed in their careers while complementing the work-based experience they gained at MarketStar.
High school students interested in work-based learning can enroll in the Tech Sales Pathway for the 2023-24 school year by contacting Derek Fletcher, dfletcher@marketstar.com. If you are interested in learning more about the program and other opportunities available, please visit: https://talentready.ushe.edu/tech-sales-pathway/