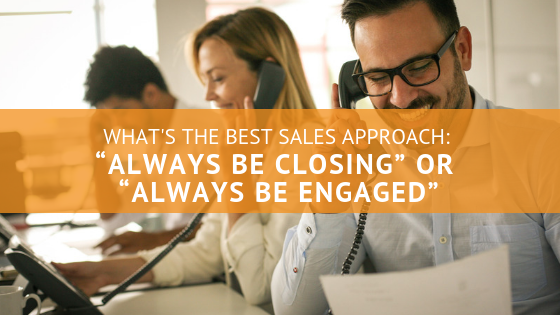 The old-school ABC sales philosophy, "always be closing," is a hopelessly archaic sales approach in today's world of solution selling. B2B customers don't want to be sold. They want solutions to their problems. Customers are better educated than ever before, thanks to the amount of information available on the web. In fact, B2B customers progress more than 70 percent of the way through the buying process before they even talk to a sales rep. They know what they want and are ready to buy. The question is where to get the best solution to address their points of pain.
To win over these new B2B customers, you have to deliver what they need, not what you want to sell them. The successful sales approach is no longer "always be closing," but rather, "always be engaged."


You Need to Qualify Before You Can Close
Selling is hard. It takes an average of 18 calls to actually connect with an authorized buyer. And at least half of the prospects you are selling to aren't a good fit to begin with. That's because lead qualification has changed. It now takes an average of 5.4 people to make a buying decision. Also. prospective buyers are ready to act much later in the sales process.
As part of your sales approach, you need to rethink lead qualification. You first must determine if you offer a solution that will address the prospect's need. B2B customers already understand what they need, so if they aren't ready to talk to a sales rep, chances are there is no point in talking to them. Your best sales approach is to be helpful and engaged in developing a resolution to their business gap. People are willing to listen to you if you have something they potentially need.
Once you determine that your solution matches the prospect's need, you need to find out where they are in the buying process. Are they still analyzing their problem and considering possible solutions, or are they ready to buy? When you contact a prospect is as important as ensuring they are prequalified.
There are various ways to identify when a prospect is ready to buy. Perhaps the simplest way to qualify a prospect is by applying BANT—budget, authority, need, and timeline. Do they have the budget to buy what you are selling? Do they have purchasing authority? How urgent is their need for your solution—must have, nice to have, or next year some time?
All four factors have to align before they are ready to buy, which means the window of sales opportunity is smaller than ever. To close a sale, you have to talk to the right person who has an urgent need at the moment they decide to buy. That's a tough target to hit, unless you take the time to nurture those customers as part of your sales approach.


Applying a Solution Sales Approach
Although today's B2B buyer doesn't want to be sold, it's still your job to get them to buy. Rather than applying a high-pressure sales pitch in order to always be closing, you want to support the customer, guide their research, and help them get to "yes." Where sales reps once used a hard close, the strategy has morphed into a more passive approach where sales reps are order takers, waiting for the customer to step forward and volunteer to buy. These days neither approach works. What does work is focusing on customer needs and matching your sales approach to meet that need. The best strategy is softer and more collaborative, and it requires sales reps to be more agile in their sales approach.
Using content marketing, you can get potential customers to step forward and show interest in your wares. At this exploratory stage, your job is to qualify the prospect and provide guidance, not push for the deal. You need to learn more about their points of pain and align your offering with their need to determine that there is a good fit. This is selling by consensus. When you have qualified the prospect and agreed that you have a solution that addresses their need, then you can start closing, determining whether they have the budget and purchasing authority, and when they are ready to buy.
The advantage to this approach is that the sales rep is no longer perceived as a sales rep, but as a collaborative consultant invested in solving the customer's problem. This not only makes for better deals but it increases customer loyalty. Customer service starts with the first sales contact, and the solution-oriented sales rep focuses on delivering answers, not just making deals.
Established customers spend 67 percent more over time than new customers, and a 5 percent increase in customer retention can lead to a 95 percent jump in sales. Clearly, helping a prospect become a satisfied customer will yield more returns and more revenue in the long run.