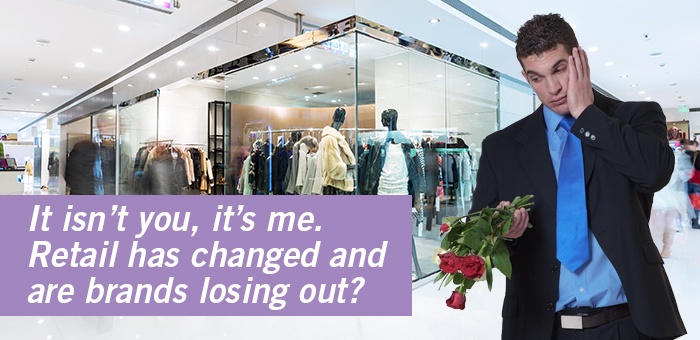 Most people have heard those words at one point or another in their lives. When it comes to the love triangle of retailers, brands, and customers, is the customer choosing competitors or retailers over your brand? After building retail solutions for five years, I've learned that the new face of retail isn't about selling the customer the items you want, it's about selling the customer what they want. Retail was once an unshakable distribution standard, but now it's an omni-channel experience, where purchases are made wherever they are convenient. It was once consistent and reliable, but mobile Internet came along and online sales grew at a dizzying rate. Insiders were convinced that the death knell for retail had been called. But did you know that online sales have never surpassed brick-and-mortar retail? That's right, never.
In 2014, 80% of all sales took place in stores, while only 6% were through e-commerce, and half of those were ultimately transacted through a brick-and-mortar store.* What's more, the rate of online sales growth per year is slowing down at an incredible rate, indicating that retail and e-commerce may be stabilizing into a form of synergistic equilibrium.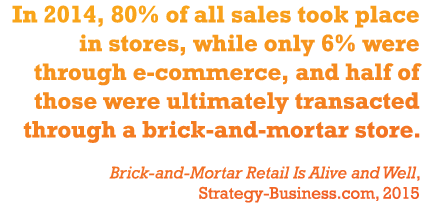 Retail isn't fading into obscurity, it's evolving to match the customer's tastes, lifestyle, and access. Retail is no longer a fixed experience that can only happen one way, it's an experience consumers decide for themselves. Retail is now everywhere and everything.
What matters now isn't where you get the product, but how you get the product. Smartphones have created a limitless gateway for customer interaction, the key is making sure customer eyes and screens stay on you. This isn't lost on retailers, who have begun using big data to better reach customers. These retailers aren't as concerned with which brand customers purchase, only that they make a purchase. Brands and retailers each see the customer as exclusively theirs, often with differing marketing messages which can confuse customers, who ultimately purchase based on value and convenience over loyalty.
All of a brand's efforts can culminate in a competitor's product being sold in the last moment of sale, because the customer's eyes are inevitably on the retailer right before purchase. It's like taking your date to Prom, and having your date leave with someone else. The retailer knows what the customer wants from the minute they walk in the door, and thanks to big data, they often know where they are in the store, and what might entice them to pull the trigger today. All the customer needs is a nudge, and now your date is theirs.
So what can you as a brand do about it? Your first step should be to shore up your customer engagement model. Rather than rely exclusively on former customers and sales associate recommendations, or new signage and merchandising to draw the eye, you need to actively engage the customer in a direct motion that appeals to their sensibilities. This includes sales events, demonstrations, awareness campaigns, gamification, data execution, re-targeting, and engagement platforms that provide meaningful direct interaction. You need to woo your customers and make them feel special at all times, otherwise they will move on to the next relationship.

This is why it's so important to be aware that the retail channel isn't just a destination. It's the entire journey. You need to make every effort to ensure your customer leaves the dance with you, and isn't distracted by what the retailer or competitors may offer. You just need to adjust your strategy to be where they are, when they need you to be there, and if you do it right, you won't hear them say: "It isn't you, it's me…"
*Brick-and-Mortar Retail Is Alive and Well, Strategy-Business.com, 2015