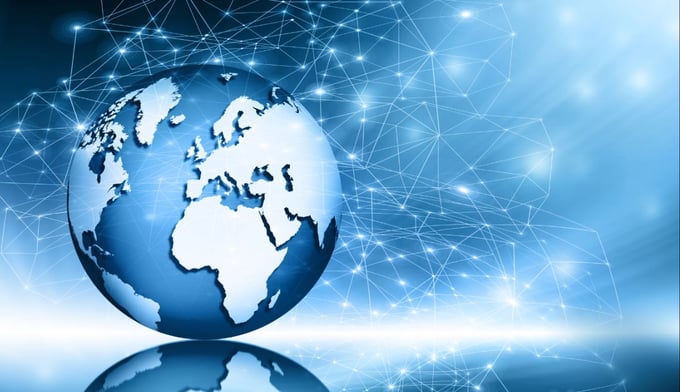 As a growing international sales and marketing company, MarketStar is invested in gaining understandings on managing global teams effectively (we are in 55+ countries). As a resource we have engaged with Michele Markus, Omnicom Worldwide Enterprise Lead, to share with us her lessons on managing global teams effectively. She brings vast experience and knowledge into this topic.
I was recently on a flight from Mexico City to JFK and broke a cardinal rule of frequent travelers: I had a long and intense discussion with my seat mate.
I could blame the fact that I noticed he worked at my first post-undergrad employer. Or that, thanks to near-constant turbulence, our bottles of water inevitably passed back and forth between seats. But I want to be honest with you and tell you what made me open the conversation (!) was the fact that the flight attendant greeted him with such warmth and introduced him personally to the other members of the flight crew with awe in her voice.
Who IS this guy? I wondered.
Of course before our wheels-up I am frantically googling his last name while wondering if he is an important airline employee (this was before I saw his embossed laptop bag and tag bearing his employer). Turns out -- he was one of the top ten fliers of that airline for that past decade.
Even more surprising was that beyond speaking about what every frequent-flier does (exchanging food and hotel recommendations, discussing cities and destinations, describing work at said destinations), we connected completely on the one complex notion that drives international business leaders everywhere: the hard truths of leading teams around the world.
Building teams in general is no easy task. Getting a group to sync around purpose, culture, and vision is a herculean effort. Yet, ensuring that a team, who meets – at most – once every year (budgets and client work permitting), are located in different continents and time zones, and derive from vastly different backgrounds to all form a cohesive entity?
Well, this is miraculous.
I will not ever claim to have mastered this task – because one cannot. People do not stay fixed in time, nor do the spaces – both emotionally and physically - that they inhabit.
But there are moments, sometimes sustained ones, where you feel the synergy and energy across oceans. You've worked together long enough to the point where can finish each others' thoughts; not because you all think the same (the death of any great team), but because you understand one another's perspectives well enough to acknowledge and respect the others' points of view.
My team is my reason for sanity; we are each others' support and our safest critics.
In this day and age where everywhere is accessible but preserving uniqueness is essential, getting the individuals on a global team to all head in a common direction with the same passion and spirit is never more critical.
Below is what I articulated on a plane cocktail napkin. I use this post as a way of opening the dialogue because this topic is too important to never NOT have this conversation and learn from others – even strangers on a plane.
Six Lessons I've Learned from Aiming to Run Successful Global Team:
1. Be Uncompromising in Enabling Trust
Strong foundations
where people feel safe and valued is probably the most important thing you can do as a leader. Engendering this in a telecon and email driven environment is tough. Therefore it's necessary to create team agreed-upon behaviors and allow everyone to reinforce them in one another.
2. Empower Others in Your Absence
People need to find their own ways toward one another. If you are always at the nucleus of every interaction, the team can never really come together on its own. Provide members with the framework and rationale for connecting without you there, especially when there are those on a more similar time zone. You'll notice the difference when you're all together and find people trust each other and accomplish more.
3. Ensure Everyone Respects Cultural Norms
It takes awhile for everyone to know the seemingly small but significant nuances: Middle East works Sunday through Thursday; Lunar New Year means most of Asia takes holiday early in the calendar year, no one in the US will appreciate a telecon on Thanksgiving Day. Allowing the team to know and learn the different social norms around the world makes them better team mates because everyone wants to be respectful.
4. Encourage Curiosity
One necessary behavior to hire for is an individual's excitement to explore and learn. Being part of a global team means geographic boundaries should be meaningless when it comes to learning. Allow team members to share what's happening in their country and region – and the impact that translates to for your customers and industry. People take global jobs to extend themselves: provide them with the ability to do so.
5. Be Comfortable with Ambiguity
Operating in a cross-continental landscape means constant fluctuation. I have found that people who operate best in worldwide teams are those that can deal with the inevitable variability. You as a leader need to look for those who thrive in this environment and make it okay for team members to feel pace of change is an opportunity versus an overwhelming force.
6. Embrace Technology; but Never Overestimate It
There are tons of operational tools that enable workflow, reporting, and all manner of team symbiosis. But nothing equates to speaking and seeing each other in person. I have yet to find a tool (and I ask everyone I meet) if they've ever experienced technology do better than connecting in-person. Even those who want it to admit it, cannot. Recognize this so you can plan your discussions accordingly and try to bring people physically together when you can.
It's been weeks since my plane encounter and perhaps not surprisingly, we've kept in touch: emailing the predicted restaurant and hotel suggestions; but also sending reading and recommendations on this critical topic of cohesive teams. My favorite has long been the non-fiction story, "The Boys in the Boat" by Daniel James Brown.
Within this same time frame, the cosmos of my work needs aligned and I've gotten to see much of my global team in person. This has reinforced my thinking and my feeling of humility in the face of what it means to be a global team leader. We sadly cannot bend space-time, yet to be able to bridge boundaries, zones and daily perspective gaps and form a common sense of purpose and mutual motivation? I will continue to strive to do this better every day and be made better by it.