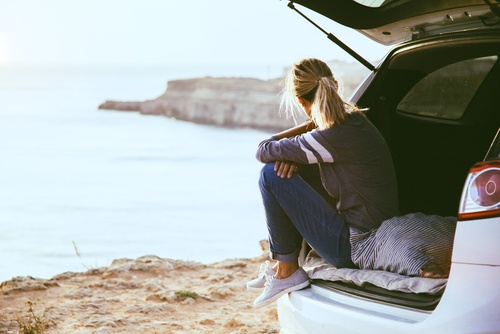 Late in 2017, three ambitious female coworkers and I took a 12-hour drive straight up I-15 to Calgary, Alberta in Canada to attend a women-in-leadership conference. On the drive up, we talked about our futures —how we envision success and what it takes to achieve what we're after. We talked about our past, including experiences we've had in the workplace and what changes we'd like to make; and we talked about our present—all the things that bring us joy, and how we should spend more time appreciating it.
The road trip, although a significant investment of time and travel, turned out to be a great choice, as we had the opportunity to listen to five speakers who presented on living authentically and passionately, taking pauses, building creativity, sparking innovation, and of course, leadership.
One speaker, Dr. Seonaid Charlesworth, presented on a tough and necessary topic: making people-based decisions. This is the act of deciding how to interact with the people in our lives, and how we should treat our employees.
As a leader, I make decisions all day. Some are trivial: can I move this meeting? Should I go home to make lunch for myself, or could I get by on a pack of Goldfish again? Some are necessary: how can I arrange my schedule to ensure I'm having the greatest impact on my team? To which of my interview candidates do I offer a job? How do I phrase this request so I get the best results?
Other decisions are impossibly difficult: how do I develop someone to become extraordinary? And, if they don't want to be coached, how much do I invest in them before making an even harder decision?
People-based decisions are the toughest to make as a leader. We're not just affecting ourselves when we make a call, we're affecting a human, their family, and sometimes, our entire team.
Dr. Charlesworth taught that we can improve the accuracy of our decisions in three ways:
1. Know what you want
2. Know the story you are telling
3. Decide the timing of your decisions
When we follow this structure, we can ensure that we're taking the necessary time to reflect on the impact, and we're thinking not just of ourselves, but the people we'll be affecting.
Because people-based decisions matter so much, it is especially important to take great care in making them. We should always be considering other points of view, getting our timing just right, and determining the best plan for all parties involved.
As we left the confernece, our minds were spinning in the act of trying to absorb all of this information. We were inspired! We didn't stop talking about what we had learned all throughout dinner that night. And that activity – of discussing the ideas – is exactly what makes me so passionate about learning, reading new books, and attending conferences. It's why I agreed to take off three days of work to sit in a room for eight hours on a metal chair surrounded by 1,400 incredible women and a few good men as we listened, we talked, and we learned.
I consider myself to be a lifelong learner. You can often find me with a book in my hand, Googling something I don't know about, or asking questions to gain better understanding. And to grow, we must have a passion to be better.
Opportunities are out there, we just need to reach out and take them.
The following day, the four of us made the 12-hour drive back to Ogden, Utah, and during that trip, the conversation never stopped. I read aloud chapters of the new books we had bought (I absolutely recommend Finding Your Extraordinary by Jessica Herrin), we further analyzed the new thoughts presented to us in the conference, and we continued to discuss what we'd like our futures to look like.
Now, months later, I am more thankful than ever to have attended this conference. I've had to make many people-based decisions over the past few months. Some were tough, but most of them have been exciting: who do I get to see be promoted into leadership roles alongside me? To which of my star players do I want to give more chances to shine?
How can I reward my team for the amazing work they've been doing?
Taking the time to really pause and absorb new information, dissect it amongst other great minds, and go back to work to apply these ideas – this is how we evolve and challenge ourselves. And the decision to learn and grow is one of the best decisions we can make.
Kate Konchar is a graduate of MarketStar's NexGen program.