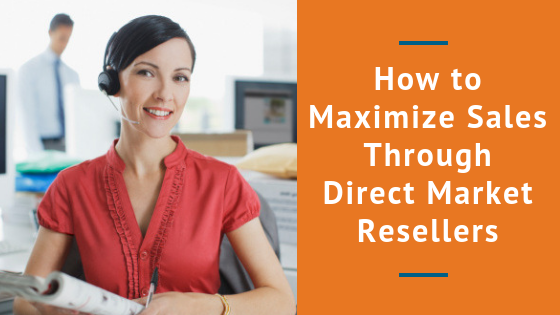 In the world of B2B sales there are different types of distribution partners, and each one plays a distinct role in reaching and servicing customers. Value-added resellers, for example, are high-touch partners that sell goods and services as part of a complete solution. At the other end of the spectrum are direct market resellers (DMRs), distributors that sell directly to businesses online or via telephone orders. DMRs maintain catalogs of goods to sell through online storefronts or by taking phone orders. DMRs can be an important part of any vendor's value chain if you know how to provide the right support.
A direct market reseller is sometimes called an e-tailer because it doesn't maintain a physical storefront but sells directly to customers. For consumers, Amazon would be considered a direct market reseller, as would CDW and TigerDirect in the B2B marketplace. DMRs typically carry a large inventory of products and are designed to accept and process orders quickly. While traditional VARs add value through in-depth customization and technical configuration, DMRs deliver their value by offering greater convenience and lower costs. In the Enterprise space DMRs can be extremely beneficial for your business as a brand advocate.
Although DMRs are an important component in your indirect sales channel, they are also no-frills suppliers, which is their strength and their weakness. DMRs bring value to enterprise sales by providing an easy, painless way to buy your technology; they help you increase market visibility at the same time they increase wallet share. However, enterprise B2B sales can be complex, so sometimes choosing a product from the catalog isn't enough.
DMRs Still Need Support
Most enterprise products are not "off the shelf," but need to be matched to other elements and fit into a larger integration strategy. Therefore, DMRs need to be prepared to offer support where it's needed, guiding customers to the right products to meet their needs and providing technical details when needed. So to maximize your direct market resellers' performance, you need to be able to provide them with support where it's needed.
Enterprise customers still want the convenience and low cost of buying through a DMR but also want the technical expertise to help with configuration and troubleshooting. That's why you need to have some form of technical support available, both for the DMR sales team and the customer.
Here are some ideas that we have found to be highly effective in increasing DMR sales:
Rapid Response Teams—Every direct market reseller can benefit from having an in-house team of sales troubleshooters. These rapid responders are available to help register deals, alerting DMRs that there is a potential enterprise sale pending with the rapid response team ready to offer support. The rapid response team also has the technical expertise to address compatibility and configuration questions, ensuring that the solution they sell matches the problem at hand, and that the customer is ultimately satisfied. The team can also help advocate for customers, addressing shipping or warranty issues as well as technical problems to ensure resolution.
On-Site Sales Advocacy—Arming DMRs with in-house sales resources can help you increase catalog sales. These sales advocates work with the call center and sales reps to increase product awareness, sharing insight about features and potential applications. They also provide on-site training and product updates—"lunch and learn" sessions are a popular tool here. They are also on call to provide deal support and help DMR sales reps increase close rates.
Sales Engineers—The deal is never done as soon as the order is placed. Inevitably, there are going to be follow-up questions and calls for help with integration and configuration. Sending your sales engineers in to provide post-sales support will improve customer satisfaction and increase DMR sales in the process. Sales engineers can offer product demonstrations, help configure custom solutions, and validate product compatibility. Providing sales engineering support gives the DMR the customer support it needs to make sure your products are represented correctly.
Lead Generation—Using DMRs to handle lead fulfillment can be very lucrative. Your marketing programs will generate leads that you may not be prepared to follow up, so passing those leads along to DMRs can help them close more deals while increasing sales toward your target projections.
Events and Training—Your direct market resellers are an important part of your sales infrastructure and they should be considered part of the sales team. Include them in special events and new product training. You can even offer remote training sessions to save time and travel expenses while making DMRs feel included. This will not only help them sell more of your products, but it will also make them feel special, which means they will likely think of your solution first on their next call.
Marketing Collateral—Of course, you also need to provide sales support materials. Gartner research shows that 88 percent of B2B buyers have access to more high-quality information than ever before, and that actually makes the buying process more challenging because they have to sift through all that information. However, information fidelity is important. Only 25 percent of B2B buyers said that information received across various channels was consistent, but content consistency increases chances of a sale 4.5 times over. If you can ensure that DMRs are armed with the same collateral you have available on your own website and elsewhere, this will increase sales.
Direct marketing resellers can have a huge impact on sales volume, if you know how to support them. These are just a few strategies that will help you accelerate your DMR sales. You can download our e-book, The Channel Is NOT Dead, to discover additional channel support strategies. If you can make selling your product simple and seamless, you are sure to increase your DMR sales volume.