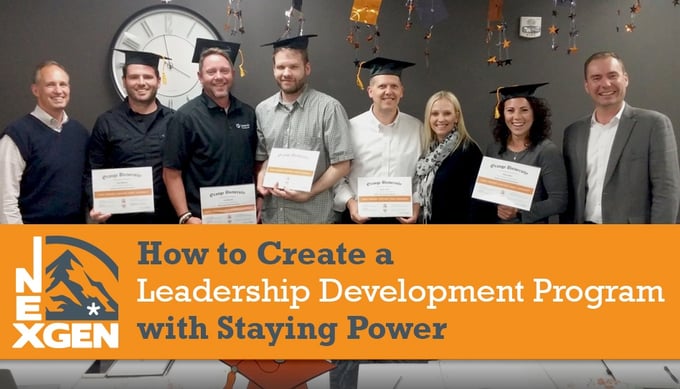 Leadership development programs have become a deciding factor in employee retention, but where many companies blunder is the notion that training equals development. Where training is a learning process, development focuses on the education and overall growth.
MarketStar, realizing this fact, developed NexGen in 2015. This program's sole purpose is building up the Next Generation of Leaders through a development process. The decision was made to invest in our people by way of the future leaders. We wanted to ensure we had a nimble "bench" of front-runners as the organization scaled.
We asked ourselves two questions as we established this program:
1: How do we allow for all employees to be considered for the NexGen program while stating that this is a premier development program?
The answer?
We were serious about the selection process.
How we did it:
We created an open application process where, in addition to the application, each candidate was required to create a video on why they should be selected. The second step included being interviewed by two different executives. Once the list was narrowed down to finalists, each participant received a personal email from Keith Titus, MarketStar's COO, congratulating them on being nominated into the NexGen program.
As we selected our most recent NexGen participants, upper management went through a total of 120 applications, narrowing the list to 24 to be taken through the program.
2: How do we ensure someone could step into a leadership role and hit the ground running upon graduation?
The answer?
We defined a rigorous program led by key leadership and accompanied with a 1 to 1 mentorship development program.
How we did it:
Each NexGen eight-month session consists of six modules:
Building a Team Culture
Talent Management
Operationalizing your Business
Driving a Sales Number
Managing the Flow of Information
Conducting Effective QBR's
During these sessions we cover management mediums including: data, case-studies, role playing, white boarding, and open discussions.
The participants are each assigned a mentor who also meets with them on a regular basis to discuss the real world experiences in leadership and the weekly homework. Our mentors remain close with them even after the program is complete. Mike Dove, a 2017 NexGen participant, and current manager, reported that, "NexGen changed my life. The real difference was with the weekly mentor sessions with Bryan Summerhays. I will tell anyone that NexGen will change them for the better if they are willing to let it, it will help them become a leader in preparation for the opportunity."
In our latest NexGen session, Vaughn Aust, EVP of Marketing and Product, challenged the group to really think about the reasons they want to be a manager or leader. He then discussed a number of tactics that leaders use to get the employee to maintain accountability, trust, and a willingness to shift with the program. There was open discussion of the challenges of being a leader and making the hard decision around removing employees that don't allow you to grow the program and create impact.
This eight-month program has traction and staying power. We have seen future leaders rise up and take hold of their development, making immediate changes to their current processes and relationship building. Even better? We have a power-house of knowlege shared and absorbed among some of our best represenatives.
Creating leadership development programs takes a measure of dedication on both the participant and the leaders. The undertaking on the leaders who run NexGen is time intensive. Over 5,000 development and training hours were invested in NexGen's during the first year.
Are leadership development programs effective? Our numbers speak for themselves. 30-40% of NexGen participants are promoted prior to graduation (yes, we do an official graduation after the eight month program). The rest stand ready to be placed in leadership roles where they can boldly grow sales numbers, build a team culture, deliver business reviews, and communicate their goals effectively to both their upline and downline.