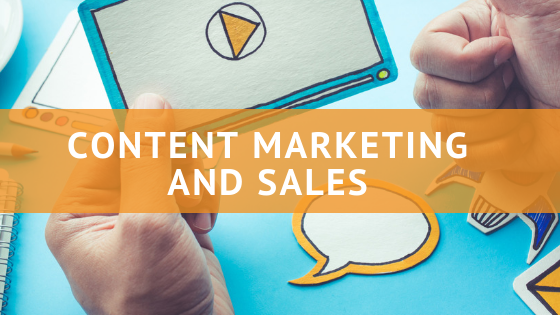 Old-school selling is about overcoming objections to get to "yes." However, today's B2B sales pitch is more about solution selling, identifying the prospect's points of pain and offering ways to alleviate that pain to get to "yes." The problem for most sales reps is they don't have a chance to engage with customers to review pain points and potential solutions, largely because no one has the patience to hear the sales pitch.

Today's B2B customers are smarter and better informed, so they come to you when they are ready to buy, not when you want to sell to them. That's where content marketing and sales converge.
Well-crafted content can demonstrate that you understand your prospect's pain points and can offer the right solution before you even engage with them. Content can be used to provide market context for your solution and prime the pump so the prospect is ready to hear more when you contact them.
However, to be effective, content marketing and sales messaging have to be aligned, and content messaging must reinforce the solution sale.
Today's Prospects Do Their Homework
Most professionals see content marketing and sales as two distinct functions. Content marketing is about distributing information online to catch leads. Sales is about making deals. However, when used together, content marketing and sales complement each other and can be extremely powerful.
First, consider how much content is consumed by your customers. Americans spend an average of 12 hours each day engaged with some form of media, including six hours with digital media. Much of that engagement is business-related, as managers seek out information that can help them deal with their business problems. That's why case studies, e-books, and whitepapers are so popular—because they offer insight that points to real-world solutions.
Today's B2B customers are highly educated and they do their homework before they make a buying decision. In fact, according to a Content Preferences Survey Report from DemandGen, 51 percent of buyers rely on content to guide purchasing decisions, and 47 percent read three to five pieces of content before they engage with a sales rep. What's worse, according to a HubSpot survey, only 3 percent of buyers find sales reps trustworthy; they would rather learn on their own.
This is where marketing content and sales can come together to close new deals. Marketing and sales efforts, including messaging, need to be closely aligned. Marketing should be measuring the response to content it disseminates. Sales can benefit by seeing what information prospects are looking for—and the reverse is also true. Sales reps learn firsthand what points of pain customers are seeking to address, and that insight should drive content marketing strategy.
Timing Is Everything
Understanding when to engage is as important as the message. Content marketing usually consists of four distinct stages:
Awareness: This is the initial stage of customer research. They know they have an issue and they are just starting to look for information to solve the problem. They will be looking for whitepapers, e-books, checklists, and other content that sheds light on their problem. At this stage, you can work with marketing to determine what questions prospects are asking early in the sales process so you are better prepared.

Evaluation: At this stage, your company has made the first cut and is in the running for a potential sale. Now, the prospect is looking for a reason to buy a solution from you rather than the competition, so they are looking for comparative information. This is where data sheets, FAQs, case studies, and demos are valuable.

Decision: They are now ready to buy, and your job is to provide enough information and insight to make the buying decision easy and obvious. Provide content that shows the value of working with you. Offer case studies that demonstrate ROI. Provide market reports and third-party content that show your leadership role. Make them feel good about buying from you.

Advocacy: After the sale, you should solicit the new customer to help advocate for your brand. Provide content that reinforces their buying decision. Make them feel positive about your brand and brand message. When the time comes, you might ask if they are willing to provide a case study to help you with the next sale.
Remember that if a prospect comes to you looking for content, they have self-selected as a lead. Nurture that lead with valuable information to break down resistance until they are ready to engage.
Use Content to Support the Sale
Smart sales reps use content throughout the sales process. According to a LinkedIn survey, B2B buyers are five times more likely to engage with a sales professional who brings new insight to the table. The right content can be extremely valuable in nurturing prospects until they are ready to buy.
For one thing, digital content provides the facts and figures you will need during a sales call. If you have data from a recent industry analyst report or if there's content about a new survey or trend, don't hesitate to use that information in an engagement. It will not only show your industry knowledge, but it will also give you content you can share after the call.
Providing educational content is also a great conversation starter. You can use it to open a discussion that can reveal more about the customer's points of pain and how you can address them.
It's always a good idea to keep an inventory of available content handy for sales calls. If your company maintains a blog library, for example, you can draw from blog content to reinforce a point or offer new insight following a sales call. As you learn more about each customer's needs, you can draw from the content library for follow-up material to reinforce your sales message and help close the deal.
Remember that the right content delivered at the right time can make you a go-to source of valuable information. Content lets you help, rather than just sell, and the more informative and useful content you can offer, the more trust and credibility you build with the customer.