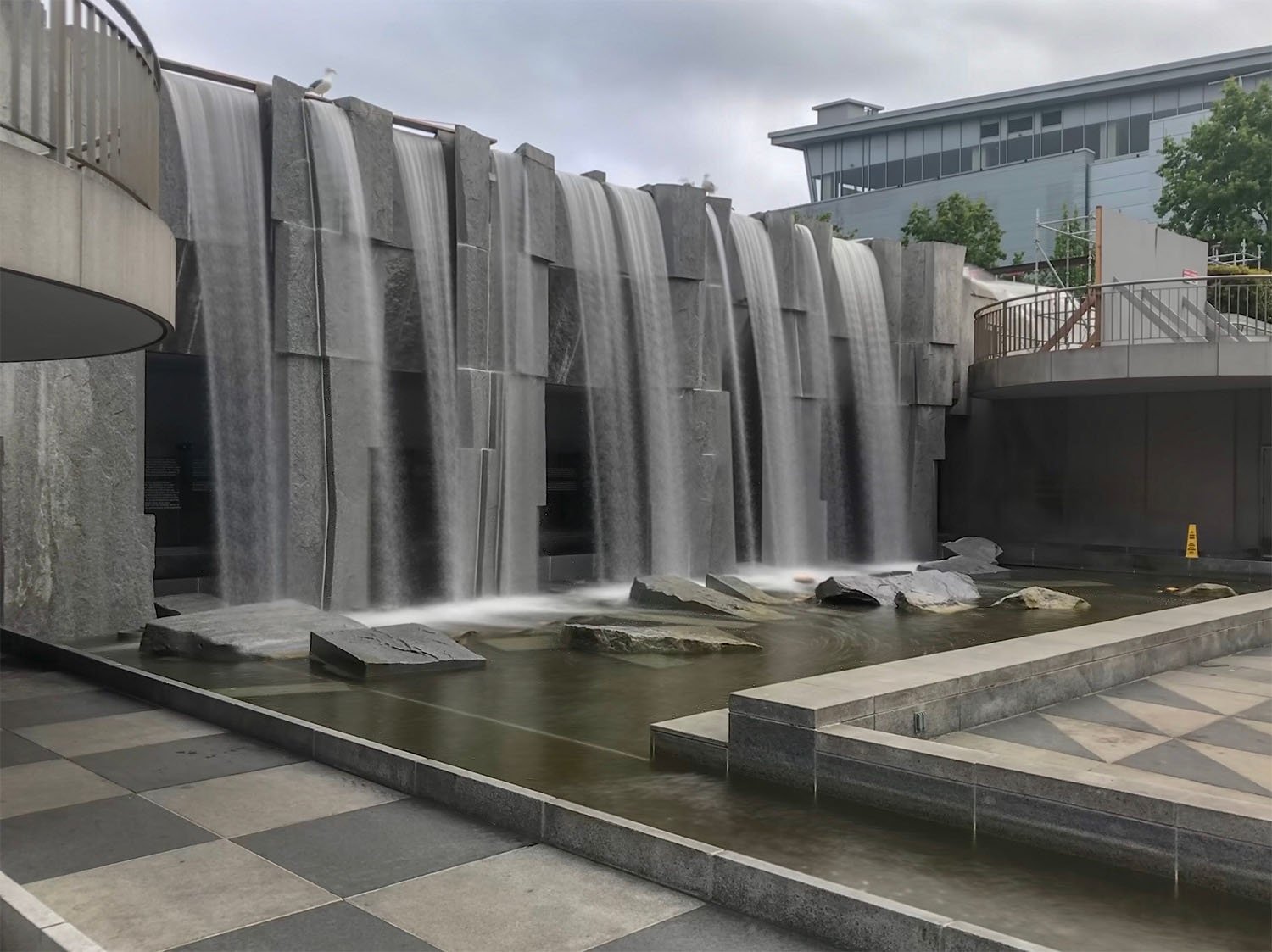 A few years ago, I had the opportunity to vacation with my family in San Francisco, where we stopped by the Martin Luther King Jr. Memorial. Within this memorial, there is an amazing waterfall. Behind the waterfall lies quotes from the iconic "I Have a Dream" speech etched in glass-like walls. Though I've heard, read, and seen this speech many times, on this occasion, while reading quotes from that speech, it really touched my soul. Together, my family and I read the quotes aloud, and we all experienced the "chill" running down our backs. Shortly thereafter, we discussed the importance of treating everyone with dignity and respect. Then the kids ran off through the garden area with many other children from all different ethnicities and cultural backgrounds. It was quite an experience, and truly something I will never forget.
The third Monday of January is celebrated annually to honor Dr. Martin Luther King Jr. and his service and advocacy of American Civil Rights and end of racial discrimination under U.S. law. Dr. King Jr.'s "I Have a Dream" speech was a defining moment of the Civil Rights Movement, where it captured the hearts and minds of millions of Americans to join and stand against racial segregation and discrimination. At the core of his speech lies the principle of inclusion. I say inclusion, more so than diversity, because in the context of the workplace, diversity equals representation, but inclusion ensures and encourages active participation. As noted by diversity advocate Vernā Myers, "Diversity is being invited to the party. Inclusion is being asked to dance."
Business leaders have long recognized that inclusion is what attracts diverse talent, fosters innovation, leads to explosive business growth, and ultimately, confers a competitive edge in terms of selling products or services to diverse end users. Workplace studies have shown numerous benefits of building a workforce of diverse people who are empowered to positively contribute to a company's success — from better financial performance and more innovative problem-solving, to increased employee tenure and customer satisfaction.
However, creating an inclusive work environment is easier said than done. Generational turnover, advancing technology, emerging market trends, cultural evolution, and political landscapes will continue to play a critical role in creating a corporate ecosystem that seeks input, inquiries, and innovation from all of its employees.
To get past these barriers, and take full advantage of the benefits an inclusive work environment brings, we are actively working on the following talent practices here at MarketStar:
Seeking diverse talent. High quality, diverse talent exists but it can be harder to find. Combatting this requires us to be proactive in our search. Our talent and leadership teams are actively working with local universities (e.g.WSU, USU, U of U), city chambers, and several different diversity groups (e.g. Women's Tech Council) on our recruitment needs and in building a pipeline of diverse talent.
Exploring flexibility. Flexible work arrangements can be very beneficial to attracting a diverse candidate pool. For example, part-time schedules may allow for a student or stay-at-home parent to take advantage of balancing work arrangements with school or home life demands. While telecommuting and work-from-home options may help alleviate the pressures of recruiting diverse candidates who may be a good fit for a role but may not be in a position to relocate. Recently, we have enhanced our telecommuting and leave policies, piloted telework and part-time position for inside sales roles, and structured work environments that incorporate universal design principles.
Growing and building diverse talent.

Strong mentorship and coaching programs, coupled with improving routine access to leadership for women, minorities, and other historically underrepresented groups in the organization boosts efforts to ensure diverse candidates are eligible and qualified for promotions. Current programs such as NexGen, Women in Business, and Readership are great vehicles that embody strong coaching, mentorship and access to senior leaders of the organization. However, the need for more career development programs and access to leaders for each individual contributor is still a need. Currently, we are working on designing a customizable and competency-based training program to fill this gap.
Diversity and inclusion is a complex talent management topic with many factors to be considered. It certainly takes a diverse village to come together and build an inclusive work environment. Though the job in front of us is significant, I reflect back on my visit to MLK Jr. Memorial in SF, which provides me motivation, hope and inspiration that our inclusivity objectives can be achieved.
It was the final etching behind the waterfall which read, "No, no, we are not satisfied, and we will not be satisfied until justice rolls down like water and righteousness like a mighty stream." It was in this instance, I imagined the possibility that one day we can be a part of building something which is greater than us. A world which is defined by one race — the "inclusive" race — where everyone's efforts, contributions, and ideas matter.