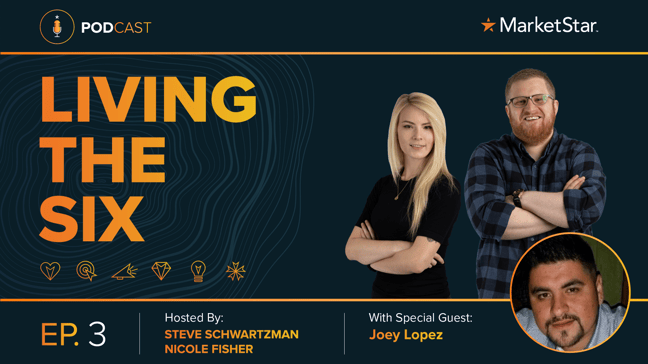 About our Guest:
Joey Lopez Sr. is a Global Program Manager at MarketStar. As a young actor and model, Joey developed a diverse range of experiences and talents centered around connecting to others. After recovering from bone cancer, he continued to apply his skills in the entertainment industry with an eventual move into sales. With over ten years of experience in digital marketing, sales conversion, and technology, he joined MarketStar to lead our sales teams continuing his passion for encouraging a sense of belonging in the workplace. He and his wife of 24 years live happily with their four children and grandchild.
Steve:
We are very excited to have our guest this month, for an opportunity to dive into most particularly, the You Belong value. We've got Global Program Manager with one of our sales teams, Joey Lopez. Joey. It is an absolute honor to have you here on the show. We're very excited. Thank you so much for joining us.
Joey:
Great, great to be here. I'm really excited about this as well. Thank you guys for inviting me glad to be a part of the discussion.
Steve:
Absolutely. When we thought about discussing the You Belong value, there were many different reasons why we felt you would be a dynamic fit. One thing we'll dive into is your experience as an admin for the You Belong workplace group, which we'll be getting into. From everything you've seen, there's been a very high impact with the rollout of the values in recent months. And the You Belong value seems to be one of the most resonant. One question we tend to like to ask a lot of people or a discussion we have with a lot of different individuals is, "which value has stood out, or been most impactful to you?" You Belong tends to come up the majority of the time. And it's something that's really meant a lot to a lot of people for various reasons. When the values rolled out, what was your immediate response and impression, as a whole, but also specifically to You Belong?
Joey:
Well, I was really excited to see them rolled out. The core values all really resonate with me. You Belong, definitely resonates with me. And I think that the reason why we see it come up is because it is primal human nature to want to belong. We want to be a part of a group, part of something greater than ourselves. That's why it resonated with me so much just because of my life history, the things that I've been through, leading up to this point in my life, and kind of running my own "tribe" with my family and being a grandfather and things of that nature. We're going to make sure that everybody has a place, a seat at the table and they feel like they do belong.
Steve:
I love that. And we've talked a little bit in the past about your life experience and where it really ties to that. The You Belong value is so interesting to me because it can take so many different avenues. To quote from the official text, it says "We embrace diverse backgrounds, promote the best ideas, and encourage diverse points of view." To me that's always been interesting, simply because it really speaks to You Belong in terms of who you are as an individual, You Belong in terms of what you bring to the table and You Belong in terms of the change that you can bring. We're trying really hard not to build a company of "yes men" or something to that effect. We really want to see impactful change, impactful improvement. And that comes from making sure that everyone feels comfortable with that down from high-end management level, to frontline employees, whatever level they sit at.
How have you seen You Belong translate within your team? How have they responded to it, or how have they been able to define it and apply it within their day-to-day?
Joey:
Within my team right now, it's a really big topic. To be able to feel like you do belong with a really diverse group in my team and my organization. Being global, we have people in Dublin. So I've got people that were French natives, people that are German natives, people that are native to Dublin. Here in our Utah team, I've got people from all around the United States, male, female, different cultures. I know that one thing that comes up a lot is appreciation from my team -- they are really excited to know that and feel and trust that they actually do belong to the team and that we are working towards something greater. A lot of them had never had that experience.
Whether they came from an internal team from MarketStar, or they came from a different company, everybody's opinion matters. Everybody has a voice and collectively that's allowed us to really raise the bar with this team. We've taken a client that launched their entire programming and a product last year, in the middle of the pandemic. And we've already given them a return on investment, which is unheard of within the first five months.
We did a test with them for six months and they've signed on for an entire year with MarketStar because they also feel that, and they embrace that value as well, which is really awesome to be a part of a larger organization. Not only just in our little team but the broad scope of the global program where we're a member of the team to them. We're just like every employee that's there and not just seen as a vendor. So yes, it's been instrumental in our success.
Steve:
That's fantastic. And obviously, within the company, that's always exciting to hear. This is an interesting discussion that I'm not sure we've really had a chance to dive into as much: not just your specific impact and how it's impacted your employees, but also your client and how they've been able to not only see success within this venture but potentially how they can connect the values to that success. Has there been any discourse at all or any feedback about this values rollout and what your client's perspective has been?
Joey:
They're really excited as well to know that we align on the six core values that we have within MarketStar, which also align with our six keys to success. I mean, they're interchangeable with each other. Everybody feels really enabled and I think feeling comfortable in your own skin is so important in the industry that we're in because our whole job, our whole focus, and our whole purpose is to always try to find the best solution for somebody else. Being able to be yourself and not just be robotic and not have to follow a script and know that you've got the skillset that you need and that you're enabled and that you're an important player. It allows you to present yourself in a better way. Your brand is represented better. Your company is represented better. And the product that you're marketing out is also represented in a way that the public appreciates more.
Nicole:
I've always wondered how a company that has many clients (like us) stays on course. And I think we have a unique business model where we interact with so many different companies that are all pretty sure about who they want to be and who they are. With the shift in our values, we're a 32-plus-year-old company that just remade everything about ourselves within the last year. I find with our type of business model, it can silo our groups, or it may have the chance to silo our groups, depending on which client you work for. Maybe a lot of teams identified very strongly with the client's values. And that's amazing. We always want to encourage that, but how do you think our values remain a north star for employees of MarketStar?
Joey:
Even with co-employment, this is still home. We have our clients or our partners that we work with, but we're MarketStar employees first and foremost. So knowing that these values have been adapted and adopted within our own organization is very important. It reminds me of something that's going on in the environment globally right now, you hear people talk about "cancel culture". It's not really people demanding that things are being canceled. It's the companies themselves taking a step back and saying, is this really what we want to represent? Times have changed, the way that we view the public has changed, the way that we view ourselves has changed. And we want the public to view us in a good light as well. One really interesting thing that I heard the other day was that it's not "cancel culture" from the people on the outside of the organizations, rather its "consequence culture" from the organization saying did we always put our best foot forward? Can we make the changes that we need to be represented in the best light possible and be genuine about it to the consumer and to the partners and to the public?
Steve:
I think I've also heard some discourse similar to that, referred to as "accountability culture". There's so much to the business realm, and over the years I don't know if it's just because of tradition or because of how media and stuff like "Mad Men" have portrayed business, especially men in business, that there's been a strange separation between the idea of business success and humanity. And when I think of our value structure, and also looking at recent times, what excited me is that there is a refreshing sense of trying to re-inject humanity back into these business models
When we had a chance to speak with the Women In Business committee, they talked a lot about authentic connection and how important that is, and that isn't possible if you aren't making that idea of humanity and the ethos of You Belong, a very central figure into everything that you do. It goes well beyond just the nuts and bolts of the day-to-day or looking at revenue numbers, but truly taking a fresh and warmer perspective.
Joey:
Definitely. I agree with that. It's been evolving. You can feel the atmosphere in the business world just kind of evolving over the last 15 years. I'd say it did come to a pretty big headway in 2020, with all the media attention for police violence and things of that nature. I started noticing it in the business world about 15 years ago, I think it was Richard Branson who was really emphatically putting out there that if you truly genuinely care about your employees and you do the right thing by them, they're going to do that for your clients, thus taking care of the business and helping everybody see success.
Steve:
Have there been adjustments to how you've interacted with your team, how you've managed your team, have there been adjustments that have been encouraged, within your circle in the company where you've been able to see a palpable difference in how the day-to-day goings-on have taken place and what that impact has been?
Joey:
Yeah, definitely. I mean, it's been a lifelong journey, really. I brought up my past earlier, I was born in Ogden, Utah, Hispanic male, non-LDS, my family didn't even speak Spanish. We only spoke English in our home because we didn't want to be even that much more different from the people around us. And, we lived in Ogden, Utah until I was about second grade when we moved to Layton, Utah. There were even fewer Hispanics in Layton than there were in Ogden at that time. And throughout my life, I was always just trying to be pliable to the environment around me, rather than genuinely being myself and allowing myself to be who I am, but also taking a real critical look at who I really am, has helped out a lot. So one thing that we did was the implicit bias test.
Everybody had to take this test and I thought, there's no way that I have any at all. After everything I've been through, just having to adapt to different religions and different cultures, things of that nature. I thought there was no way, I was going to come out of this test and there's going to be none. But I did find that I actually did have some that I needed to work on myself as well. I need to make sure that the intent that I have for discussions, has the impact that I'm moving toward. Sometimes we allow emotion or the heat of the moment to come up when we are really passionate about a topic that we're discussing or when we're coaching somebody.
But again, take that step back, view yourself in the other person's shoes and be sincere in the conversation. Sometimes just allowing the other person to speak and not needing to have an answer, allowing them to be heard goes a long way. It's gone a long way for me personally, in my personal growth. And then that translates to my profession.
Nicole:
I liked what you said about having to adapt to many different kinds of people, cultures, religions, et cetera. I also find that interesting in the business world. I want to hear your thoughts about how diversity and having a value, like You Belong, has a tangible business value tied to it. Can you elaborate on what you think the impact of You Belong has inside a company like MarketStar or a similar company in the business and tech world?
Joey:
Yeah. It allows people to be themselves. When you get to genuinely be yourself, I think you're contributing genuine things that are important to you that may have been overlooked by the larger group. Everybody has their own experience. I mean, you could talk to another Hispanic male born in Ogden, Utah the same year that I was born and they're going to have a different life experience than I did. I got into acting really young. So it was something that I was able to do to stand out above the crowd. I started here in Utah with acting and modeling. And I actually was "discovered" by a modeling agency that used to be one block away from where our MarketStar headquarters are.
From there, when I was in middle school, I moved to LA to try to further my career in that profession. And I found really quickly that I had adapted so much to the Utah environment, that I was thrown into a school where there were a lot of kids that looked like me, that had the same religion as me. And at that point, I felt uncomfortable because I had spent so much time trying to condition myself to be somebody else. That was another really big kind of an eye-opener for me -- are you doing things to please people, or are you living life to be happy and be comfortable in your own skin? As I've gotten older and I'm working in corporations like MarketStar, I worked with another company very similar to MarketStar for 10 years, and allowing myself to be myself, speak up when I need to not be afraid that it's just going to be shunned or looked down upon because I'm not one of the "Mad Men".

I don't look like they do. I don't talk like they do. It's really allowed me to become a more productive member of the community within the company and the corporation and allow my voice to be heard more, which has actually opened up a lot of doors for me. It's allowed me to take a career path that I longed for a long time, but always was too afraid to rub somebody the wrong way, I guess, by being myself. Mastering my emotions, taking a really critical look at myself and where I may have biased, removing that, taking a moment before I speak, listening to actually hear rather than respond. All of that is has geared us toward success. When the team is happy, the leaders are happy and everybody's working in unison, it's the well-oiled machine.
Steve:
You discussed your experience with implicit bias training. And I remember that vividly. I find it interesting that our backgrounds and our growing up are almost inverse in a way. I grew up in Los Angeles in a very Hispanic neighborhood. I was very much surrounded by that group. As a matter of fact, my fifth-grade class was primarily Latino and it was interesting. I was the one Caucasian male in the class and my best friend was the one black male in the class. And to this day he is one of my closest friends and we still talk. I remember us talking, bonding over that.
In my later teens and into college, I had moved out to Utah and it was kind of a similar experience -- I was surrounded by people that were very similar to my makeup. I sometimes call myself "walking privilege". I'm a heterosexual, Caucasian male. In a way felt your level of uncomfortability. Somehow it's a little different, you almost get comfortable with sticking out in a way, and it changes things. But when I walked into the test for the implicit bias training, I remember not thinking I wouldn't have bias because I knew I would, but I was certainly not expecting the wide range that resulted from it. One of the main takeaways that came out of it for me and where You Belong really started to click with me was that my bias wasn't necessarily speaking to what I was doing, but what I wasn't doing and what proactive efforts I was holding myself from in embracing a diverse culture in embracing equality and equity, and in making other employees feel like they belong.
And also seeking value in myself. It was a thought that I'd had, and I discussed this with my manager after the fact saying, I very much want to earn the value that I have within a company. I want to leave no stone unturned. Whenever I walk away from this, I don't want anyone thinking that my privilege and my standing as to who I am is what got me here. And on that tone, I also need to be a better-sounding call for those people who have earned that same right, whose lack of privilege has kept them from those opportunities. As a manager, what angle do you take, or what tactics do you look to when you come across an employee who essentially feels like maybe they don't belong? How are you able to help them really adopt that idea and help them turn that leaf in their mind?
Joey:
That's a really good question. It's really insightful as well. Steve, it's something that I think about a lot, Because when you say, I come from a place of privilege, but I put in hard work but did what I needed to do to get myself professionally and personally where I need to be -- to be able to see the progress. It is sometimes discounted as, oh, you got that just because of what you look like. And on the flip side, same thing, like you said, there could be people like me who have put in a lot of work. That's why I left the last company I was with because I was always one of the shining stars of the company and always the main producer, one of the best trainers, but I never could escape the bottom-level employee titles.
They would always give me money, compensate me. But I never was able to "join the club". And I've had employees that have the exact situation as you, or they felt marginalized because of the changing environment. It's just social conditioning, like I had said, it's what we've seen on TV for all of our lives. It's what we hear on the radio. It's what we see on the internet. But really, just trying toput yourself in somebody else's shoes without saying I understand, but I empathize is powerful. It's okay to have the feelings that you have. It's okay to feel different. Even if you look the same, cause we are all different. We all have our own unique experiences that mold who we are.
It's also okay sometimes to untie those knots because I think that we also get in our own way when we start feeling like we don't belong. We clam up, we won't say what we want to say in meetings. We won't share the ideas that we have at the fear of them being rejected. Once you have that trust and understanding with a team member of yours, then you can enable them. It's not just about sales techniques. It's not just about how well can you navigate a digital stack and handle a CRM, but also how good you are at being you.
Nicole:
So powerful. I know that being able to shed biases, internalized or not, and being free of those things and connecting to something like the You Belong value will have a huge impact on how comfortable you are at work, how comfortable you are in the community. It's amazing to hear that you're at that place. I know I had to go through my own journey of shedding a lot of internalized things about myself, and eventually, hopefully arriving to be a better person. I totally identify with that journey. Feeling comfortable to be yourself can actually allow you to shine in the business world. Having and encouraging that progression towards more diversity, towards feeling like you don't have to be someone else. We talk about wearing different hats in the professional world. It's just one hat, you're still you.
Joey:
Yeah, it's a really exciting time for me. I still got at least 20 more years in the business world and it's just a really exciting time to be alive, a really exciting time to be in business. There's been a lot of social conditioning. I mean, we just gotta admit it as a nation in America, there's been social conditioning to minimalize or marginalize certain groups of people, and it's coming to the forefront now. People in positions of power in the corporate world and in politics are realizing that it doesn't have to be that way. And as a whole, I feel like the nation and the world are actually starting to pivot toward a way where we're all taking a deeper look at ourselves, individually, as a group, and as an entire world population. We're having more empathy toward people's journeys and realizing that we don't have to all be factory-made, robotic, the same people. We have a rainbow of gifts and great things that everybody can contribute. And if everybody feels comfortable enough to do that, and they're enabled to do that, we can only all get better and richer for the experience.
Nicole:
To follow up on that. What do you think the business community as a whole can do better (in addition to having a strong value structure that many people identify with and feel strongly about like we do for the You Belong value), what do you think can overall be improved?
Joey:
So I think equity is a big thing that we all need to start working on. Everybody's aware of their biases. And I know that the majority are working on those. Everybody's internalizing that and trying to be a better person. There's a meme out there on the internet where they've got people at different heights trying to watch a baseball game. And there's a couple of milk crates there and they have the shortest person, they move some milk crates over and the tallest person is still able to see, the middle person has one, and the shortest person has two.
What I'm trying to say is to allow ourselves to utilize the strengths that each other has to build a stronger whole as a corporation. It doesn't have to just be the old way of doing business all the time. There are people that are going to bring in maybe a different point of view that we really need for a client because they're from a certain region that can resonate with them. There's a lot of different scenarios where allowing people to be themselves and contribute what they have as their strengths and allowing us as a group to enable them to overcome any opportunities that they have to grow as well.
Steve:
I read an interesting piece. One thing that on the training end of the company, we're always thinking about is how to handle and mitigate attrition and how to make the new hire experience when someone's new to a company, as positive as possible. And one very small tip that I saw that I thought about a lot is when you take on a new hire, when you add someone to your team, make sure they know, and you state clearly when they start, why they were hired, not just offer them a position or welcoming them to the team, but make it very clear, Hey, this was something that really stood out to us. We're excited to dive into that with you and we were excited to add that to the team because we thought that was a really cool new perspective.
I've had a couple of experiences where I've been able to turn to managers and bosses in those situations -- I've had a couple of cases where maybe what's on my resume doesn't necessarily match up with the position, but I was still given an offer. So I asked why would you hire me? Why wouldn't you hire someone who maybe the job experience ties more directly or something to that effect. And when they've been able to sit down and illustrate that for me. It immediately made me feel like I mattered within the company, that I had a role, that I had a purpose, because they were able to pinpoint, well, we saw this and you had mentioned this. And we just really felt like that's important to us. Something as simple as when we see evidence of those things, of those differences that impact, are we taking the time to call those out and to welcome them?
Are we encouraging someone, Hey, yeah, you mentioned this in your one-on-one. I thought it was fantastic. You should really bring that up in our next staff meeting. I'd love for you to maybe lead a discussion or just make mention of it because I think it would be helpful for people. I love that perspective; It's not only acknowledging that we're different, but embracing and celebrating that we're different and understanding that if we can find a way to pool all of these perspectives and all of these tools, we're going to build a really fantastic machine together.
Joey:
Definitely, that's a great method. Recognizing strength immediately, I think, enables people to feel comfortable. I know it's been kind of a theme that I've been hitting on here, but it's so important to be comfortable in your skin, be comfortable in your abilities, be comfortable in your gaps, inability, or your downfalls as well. And know that you have people that are there to support you. They're celebrating where you are strong and they're supporting you where you need. Maybe you need some guidance or you have an opportunity for growth. When people enter a company that way they will buy into the environment, they'll buy into the mission more. There's an old adage that people don't leave jobs, they leave managers. I believe that to be true, but they also leave culture. So if the culture isn't aligned so they feel like they're actually doing something purposeful in life, and that isn't aligned to what they really want to be doing, people are always going to have that sense of, I need to find where I belong.
Steve:
I've had a chance to tour some facilities and we even work in some environments in the modern tech era of business, nowadays they're called campuses, not even buildings, but these awesome environments with really cool bells and whistles. If you name something there's a chance an office has it, there's probably an office somewhere that has a water slide next to other desks and computers or things like that. There's very much this open floor, sleek look. One thing that I've always felt that I've stressed to people, especially when I've worked in some of those environments, is those really cool things, those exciting things, wear off quickly, you get used to them. And then it comes down to the same nuts and bolts that every single successful company builds from, and it's the culture that you build.
It's the connection that you're building with your employees. You can establish that. And I firmly believe you could work in a dumpster and have a great environment and have people who love their job, That's not to water down or speak ill to any job that has that type of an environment within their company. But it's important to note that those things can't be the standing for here's how great this company is. There's always that central core that if we are not putting an emphasis on our culture and our connection, things will crumble pretty fast.
Nicole:
I agree. Going back to your equity piece, how do we change that? I think of it this way. If the majority of a population is one type of person and you have the ability to reach over to include more diversity in your groups, in your communities, in your companies. The whole point of those groups that encourage diversity, equity, inclusion, things like that, they're for people who identify very strongly and stand with those people. There's been something bugging me in the back of my mind. It's so ironic, but people cannot actually feel excluded by the existence of some of those groups.
For example, this month is Asian Pacific Islander Heritage Month. I'm not an Asian Pacific Islander, and I don't feel alienated by that at all, but some people might, and in the context of the business world, that can form a clique of people. Like I'm Asian Pacific Islander, so this group is for me. But what it actually should be doing is rounding up everyone and say, we recognize that there are things that we need to improve. There are things that we need to encourage in our culture to further in every culture. And that doesn't just pertain to the people that the group is about. You know what I mean? I hope I'm making a solid connection here. People who don't necessarily identify as a particular group need to recognize that there's different equity that is required there. And we all need to stand up for people that aren't as privileged as ourselves. The struggles aren't necessarily yours, but maybe we need to hear them and adjust and evolve our culture to understand them.
Joey:
I actually relate to that a lot. Being Hispanic, most of my bloodlines are native Americans. It's just a fact of history that native Americans were "done dirty". Let's say that. And then consolation for that or reparation for was that was, let's put them on a reservation. Let's group them up together, that way they're in a group and they know that they belong there. And when you say things like, we're celebrating Pacific Islander or, Black History Month or Hispanic Heritage Month, I think that we need to approach those kinds of observations as a celebration of that culture. Let's empower those cultures to share what's important to them, to share all the great contributions they've made to the world, and what they still contribute to this day. And maybe, find food from that part of the world that we never allowed ourselves to explore, have an open mind toward it.
Nicole:
Yes. Finding easy ways to make that connection, to form that bridge more easily, I think is a really good point.
Joey:
Yeah. And it gives them a platform to have pride in and share the great things, the beautiful things from the different cultures that they have. Not necessarily just us saying, okay, now we're celebrating you, so go to your reservation. No, share it with the world.
Steve:
I can't really think of an experience in my life where taking in that perspective and those stories didn't edify me, whether in a professional or a non-professional setting. It's always interesting to me because I feel like sometimes people actually really feel that they should hold back on talking about their backgrounds, their experience, their story, the virtues that their background and their culture has led them to. Whereas I think you're only doing a service to people to help us understand that background. There's so much perspective in this world. We all live in this box where we think that our perspective is how the world is. We've heard that phrase a lot, "that's just how the world is". I think we'd be amazed to realize that that isn't necessarily how the world is.
There are 7 billion people who can all share with you a different way the world works. And it really brightens that up. I definitely empathize and feel that strongly. That's always something that's stood out heavily to me. I hate to veer from this subject because I think we could go on for a long time and have a continued valuable discussion on this. We do have a few minutes left and I'd be remiss if we didn't dive into one particular note, which is your experience with modeling and with entertainment growing up and where that took you. I feel like a lot of people would be really intrigued, not only to hear from your experience but where that ties to now and what things you've taken with you that have made you successful, just to jump right into it. Are there any interesting experiences that come to mind? You've shared a little bit of your resume with us. You've got some cool titles under your belt. What were some of your favorite experiences from that time in your life?
Joey:
I really enjoyed being in the spotlight. I like to entertain people. I like to make people laugh. I like to make people feel good and create a good environment for people. Going into the industry though, there really are those silos that we spoke about. They have a specific workforce called typecast going into acting. It was hard for me to break a typecast. I was always a young thug or "robber number one" or "gangster number two" until I actually started getting bigger speaking roles and I started making a bigger impact in the industry, my name started getting known more. But one thing that really helped me was my culture and my heritage because I was able to work with big Hispanic names like Edward James, almost Cheech Marin.
My very last film, Salma Hayek directed. So that actually helped me a lot in gaining a little bit of notoriety in the industry. I really enjoyed the experiences I was able to gain through travel and getting to meet new people and learn the industry and kind of getting my name out there. But as with anybody, life happens, I got into my mid-twenties and some very tragic things happened in life and I was starting my family. Something had to give, and I just wasn't in the mindset or in the right frame of spirituality to be entertaining people because I wasn't happy in my own skin, my own life at that time to even try to pretend to be something that I wasn't. So I stepped away from acting and the industry altogether, essentially, in 2004. But it helped me to embrace my own culture, my own heritage, because of the support that I received from that community.
Steve:
I love that. I think the strength in making that life decision is important as well because knowing that gives me perspective. If you were to join a team of mine, knowing that perspective gives me an understanding immediately, this is what's important to Joey. This is what he values. This is what matters to him. And immediately it helps me find those connections. And then I think immediately that edifies things. So I love that perspective. What are some skills, values, pieces of your experience in that realm that mirror directly to the business world, to what you do now, whether or not they're obvious or surprising? What are some learnings you took from your time in entertainment that actually are very effective in how you do your job today?
Joey:
Sincerity is so important. I mean, especially when you're acting, you're playing a role, you're playing a completely different person than who you are. Can you have that come across sincere enough to where the audience is going to buy it? And then when you translate that into the business realm that I'm in now, working in sales, can I be myself sincerely enough? Do I believe in the product that I have and that I'm offering enough to be sincere when I make an offer, when I'm listening to what the needs and the pain points of a client are? It's really helped me have an understanding of human nature because you have to be a student of human nature to be an actor. You have to know how to basically be anybody. If I've got to be an old man and I'm 24, I gotta be an old man, put on makeup, prosthetics, things of that nature.
But as Nicole said before, we wear one hat and that's ourselves. But in reality, sometimes you do have to change the color of that hat. Sometimes I have to be a counselor as a manager. Sometimes I have to be on the ground level and lead the charge and show, Hey, what I'm asking of you is possible, and I'm going to show it to you. I'm going to demonstrate it to each one of you. I will go in and be in the weeds and give you a good example of what that is.
Steve:
That's fantastic. First of all, I love that you had that right out of the pocket immediately. And I think it speaks very heavily because it makes total sense. I think those are both industries where "overselling" is definitely a risk factor that comes in quite a lot. I know we're essentially out of time, but Nicole, did you have anything else you wanted to add?
Nicole:
Just that we thank you for everything that you do for the You Belong group. It makes a whole lot of difference, and we appreciate that. We got to know you on a personal level and discover your awesome acting career. And we're just glad that you ended up here with us.
Joey:
I'm so glad to be here. I love MarketStar. We do belong. We all belong. We all belong to MarketStar and to the community, to the world at large.
Steve:
I love that we can get a chance to discuss here, but of course, people can connect with you online, obviously within the company. If you're on Workplace, that's a great place to connect with you and connect on this value in general. That is the "You Belong" Workplace Group that Joey is an admin for. It's a fantastic place to share perspectives, share insights, and just get that fresh state of mind on a day-to-day basis. That said, thank you so much for taking the time. This has been a fantastic discussion and we hope to have you on again soon. It really feels like there's a heck of a lot we didn't even get a chance to touch on.
Nicole:
I believe that's called a "callback"?
Steve:
Yeah. Is that a "callback"? Is that the term?
Joey:
I think that would actually be a reoccurring character. I love it. Thank you guys for inviting me. This has been a great experience. I'm glad that I was able to share some of my own experiences and hopefully that empowers other people to share theirs, and it enriches our culture. So I'm really glad that we're embracing this, that we have the time to discuss You Belong again. Thank you for having me.