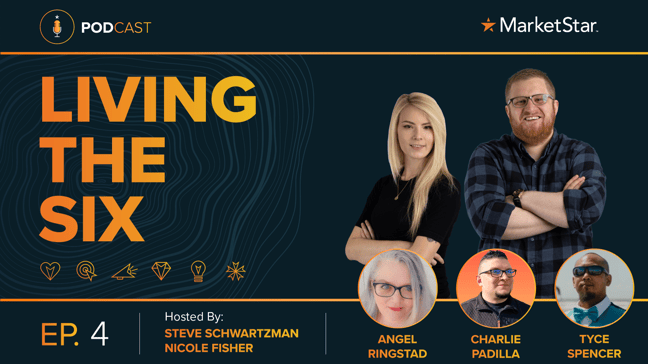 About our Guests:
Angel Ringstad has been at MarketStar for three and a half years as a member of one of our strategic partnerships. Outside of work, she is a painter, an advocate for social justice, and a mother of five. She takes great care of her team at work and loves spoiling her grandbaby.
Charlie Padilla is a returning member of the MarketStar family after leaving to pursue an opportunity at a large AdTech company. He came back to help pilot a new, high-profile AdTech program within MarketStar and has had great success. He and his wife have two kids, eight and four years old, who keep them very busy! His hobbies include golfing, gaming, and spending time with his family.
Tyce Spencer is celebrating his 13-year mark with MarketStar and leads one of our sales teams. His why is about seeing others grow and succeed, which is why Tyce is a true example of someone who works hard to include all the team in activities, discussions, and events where people can connect. Tyce brings in "All In, Every Day" and "You Belong" to his team every day.
Nicole:
Welcome to the show, everybody. This is the Living The Six podcast, and with me is Jordan Donahoe, Steve Schwarzman's counterpart. So we're going to be tag-teaming this episode. It's going to be a really fun one. What do you think, Jordan?
Jordan Donahoe:
I'm looking very much forward to it. Step stepping into Steve's shoes a little bit is a big lift, but I think I'm ready for it.
Nicole:
Well, we can't wait to have fun and learn about the guests for today's episode. We want to discuss what it means to be a "Master of Your Craft" today. And we have our special guests, Charlie, Angel, and Tyce with us. They are RockStars that were nominated by their peers and it's a way to highlight the amazing people that work at MarketStar. So without further ado, we're going to get their insights on what it really means to be a Master of Your Craft.
You all have very, very different stories and we want to make sure we get to all of them. So let's get some background about each one of you. I'd love to know your story here at MarketStar.
Angel:
I was with a tech company before coming to MarketStar and I did, oh gosh, everything you can imagine. The sales experience I had was upselling, but it wasn't challenging. I got talking with a friend who had worked at MarketStar and he said I should talk with one of the recruiters there. He gave him my name and number and he called me and he's like, I think you'd be a really good fit. So let's get you interviewing. So I did, and I was interviewed a few times and finally, on the last one, I said to the sales manager, "look, I know I don't have a ton of experience, but I promise you, I will give you 100% every day. And if I'm not attaining goals by six months, I'll leave. You won't have to let me go. I'll go."
And he just looked at me. He goes, "Oh, you got some grit. Okay." And he hired me and I felt very uneasy in the position at first, it was super strange and super new. But, as I challenged myself and set those goals for myself and got some really great support from my peers on the project, I rapidly grew and started becoming a top performer, like I promised I would. I don't make promises to other people very often. I don't make promises to myself that I know I can't do. I got there and it got to a point where it wasn't challenging anymore and I needed more growth. I was approached about the opportunity to move to a pilot, which in itself is super scary because it's a very limited amount of time and you have to prove it or it goes away.
And then you've got to start over yet again. But I did it, I just told myself, Hey, you gotta grow. I was giving everything I had and helping everybody around me, but I wanted to move up in mentoring, into leadership, potentially into training. And so I needed to shift. And so I did it and I forced myself to flip that switch in my head from what was comfortable to finding the opportunities within this new program to grow and make it a success. We had very new people on the team that didn't do it, they were in the exact same place I was when I started. And I was like, oh, there's my opportunity. And so I just shifted from a sales role to a sales mentor. And starting with the first month in ramp month over month, I showed myself as a top performer while also mentoring as many as I could.
Jordan:
I liked a lot of the things that you said there, one of the things that you hit on was grit -- giving 100% and being willing to kind of gamble on yourself. There's a lot of things that can be said about that journey and being willing to take that gamble and to lean in on some of the expertise that you bring to the table. So thank you for that. And thank you for sharing. I'm gonna kick it over to Charlie. Charlie, fill us in on some of the details of your personal journey.
Charlie:
I've had an interesting career, all in all. Looking at my resume, it's kind of eclectic in a lot of ways, with a number of different sales positions.
I actually moved back into sales from mortgage servicing. I worked as a supervisor in an escrow tax department and I did that for a couple of years. I think we've all had those jobs where we just kind of feel our soul leaving our body when we clock in. It definitely felt like moving on to something else that was more gratifying and fulfilling. I actually started to get back into sales by moving into logistics sales, which is brutal as anybody that has experience in logistics sales will tell you. But it really opened up a lot of confidence for me in my abilities, by moving into something that I was completely unfamiliar with and then seeing some success. Then, with that confidence, I started to look out for other opportunities.
So that's actually when I first saw the opportunity to work for an ad tech company within MarketStar and, on the surface, I didn't have any experience in marketing whatsoever, but I had that confidence -- I knew I could sell. And then from my escrow tax supervisor days, I was a wizard with Excel and understanding analytics and reporting. So I just had a lot of confidence in what my capabilities were. I took a gamble and applied and actually got the role. And honestly, like that was an opportunity that really would've been difficult to get anywhere outside of MarketStar. And that opened up a lot more opportunities for me. I was in that program for about a year and a half, actually almost exactly 18 months.
Then I had another opportunity to work directly for another ad tech company, which I took. After about a year of that, the pandemic struck and, as does happen with the COVID world, which I'm sure a lot of us unfortunately have had the experience of, my place of occupation was no longer my place of occupation due to downsizing. But, that opened up another opportunity for me. I had gained a lot of really good connections, and proven myself and my skill sets within that organization. And a former co-worker reached out to me because he was opening up a brand new ad tech team at MarketStar. It's really an exciting opportunity as Angel mentioned, and it's also kind of nerve wracking, because you're starting a brand new team. It's not established, and with that comes the fact that you have no baked-in processes when it comes to the sales flow and all of the systems that we use. There's no best practices when you walk into it, on a pilot program.
I really took that as a challenge. First and foremost, I have a lot of experience from these other organizations that I worked at. I know that there's a lot of values that I can contribute in helping to build out this team and this program. I took that opportunity. Outside of the experiences or opportunities that MarketStar has the ability to provide, being able to start a sales program for a large organization is not an opportunity that can be found in many other places. It's been a really cool experience. The program actually hits it's year mark in about two weeks. It has been very successful and has provided me with a lot of really good opportunities to mentor my teammates.
I'm working with one of the new trainers within MarketStart to build the training curriculum for all of the new hires moving forward and have a lot of really good opportunities to get face time with the client. For them to see the value that MarketStar has the ability to provide in driving, not just sales revenue, but also in being able to contribute to their training curriculum and the resources that they use, and then building out relationships for developing new content that can be used both internally, as well as with the MarketStar team. So all in all, it's been a really cool ride so far and I'm really looking forward to additional opportunities moving forward.
Nicole:
Good job. No wonder you're a RockStar! Tyce, I want to hear from you too. What has your journey been like up to this point?
Tyce:
Well, it's definitely going to be challenging to follow-up those two amazing stories, but I'll definitely share my experience. I'm still on my journey, which is exciting. I'm actually going on my 13th year here at MarketStar. It's been a tremendous experience this entire time. When I first was getting recruited by MarketStar, I had a sales leader from a previous organization that I was working for trying to poach me essentially, telling me about how wonderful this company (MarketStar) was. I had no idea what I was really getting into, but at the end of the day, they were like, look Tyce, you can sell an Eskimo ice and I want you on my team.
And so, I took the leap of faith. I left an organization that had been with for over eight years, to come over and try this MarketStar thing out. And, my very first experience, I was on a team that had a contract and within the first two months, the contract was no longer there. And so I was in a position where I was having conversations with my leaders, looking at other opportunities. And I'm like, what is going on right now? And they're like, well, this is the MarketStar way. We have contracts, we have other teams and I just didn't know the full scope of what MarketStar really had and was bringing to the table. From there, I had all of these opportunities laid out in front of me and it gave me a course and a direction to really grow my career through.
From there, I was able to join several teams and learn different competencies and learn different technologies. Throughout that experience, every team that I've had an opportunity to be on, there's always been other opportunities present, to grow within that team, and also to grow outside of it. So, my journey has been nothing but opportunities and capitalizing on them. Now those opportunities were never just given or presented to me. I definitely had to go out and prove my worth and put my name in that circle of candidates that should be considered for these opportunities. I just really bet on myself.Tyce: (14:01)

I come to work every single day, knowing that I'm going to do the best that I can. I ask myself, what can I do to improve myself for the next day. Day in, and day out of improvement, knowing that I've got plenty of gaps and I need to get better. Having that mindset and awareness has really taken me across my journey. It's knowing that this path of knowledge will never end. It's a continuous journey. And like I said earlier, I'm still on it.
Nicole:
I think there's something really profound there. As I'm hearing your stories, I'm noticing a common thread -- at some point there was a time of uncertainty. And it might've been really early in your journey, but it helped you become the RockStars that you are today. What have those times of uncertainty taught you, and what allowed you to push forward during those times?
Charlie:
In those times of uncertainty, it's honestly just having confidence in myself and what I know I have the ability to do, and trusting my peers and leadership. To become extremely collaborative in developing solutions for whatever problems that we face. A lot of that honestly just comes with experience at other programs, helping to develop a training curriculum, helping to develop sales processes, whatever that looks like. You just have to really lean into your capabilities and what that you can do, and just take a leap of faith and challenge yourself and push yourself to do more even than you have previously.
So, the biggest benefit to MarketStar so far in my experience has been that your peers are working to become successful as well, because a lot of us don't come from tech backgrounds. MarketStar provides a lot of opportunities in that arena, and everybody takes that seriously. So there's this culture of support and of collaboration, that is really motivating and it really pushes you to try to be a better version of yourself as well.
Tyce:
I'd love to add to what Charlie just said. Not only was it personal confidence, but it was the empowerment from my leadership. Having my leaders finally understand and recognize the capabilities that were there and tapping into them to unlock my potential, enables me to be myself and to be successful in those roles. Knowing that I had leadership buy-in and their support ultimately gave me confidence, knowing that, yes, I can do that. And if I can't, I have support around me.
Angel:
For me, it was very, very similar to what Tyce and Charlie said. I had to find that within myself and when I started to feel doubtful of my own abilities to succeed (I second guess everything that I do and everything that I think), I was very lucky to have some amazing leadership from the start that helped push me out of my shell. I learned to basically tell that inner voice that's second guessing and making me feel not so confident, that it's wrong and that I can do anything. And through time I was able to push through that and get there. So yes, it was finding confidence within myself, but with a lot of nudging from some amazing managers.
Jordan:
Each one of you talked about amazing leadership and feeling empowered, but also having confidence in your abilities and being able to confidently take the next step and put yourself out there a little bit, and not necessarily be so comfortable in the moments and really find additional ways to make your impact felt. So I think that lends itself into that question of growth and opportunity. Tyce, you were recently promoted within the team that you're currently on and you won RockStar in that same quarter. Can you expand upon that, how those two things ran together?
Tyce:
Beyond luck? yeah, I'd be happy to. I was really given an opportunity to join a team that I really felt matched a lot of my skill sets.
It's a lot of channel experience, there's technology, and there's direct customer sales. So for me, it was like a perfect marriage to join this team. When we started, it was a two man team and, ultimately, the two of us had to band together to figure it out. We didn't have much direction. We didn't have much to go off of as we were the beginning and the origins of this team. And it was really what we were going to make of it. We went in and studied the market to understand where my product portfolio fit, taking that grasp and then running with it.
From there, our team actually grew in a short period of time. It gave us opportunities, as peers, to work with newer team members as they were getting onboarded. We knew what challenges they were going to face and what they were going to encounter because we had already been through it and experienced it. I didn't want the new folks to repeat the same mistakes that we did. It became a platform for sharing best practices, not reinventing the wheel, but still improving.
It gave me an opportunity to step up as a leader for the team, even if I didn't have that official title, that's not what I wanted. I wanted this team to be successful and to grow be happy and enjoy what they do. I think that is what gave me a platform and an autonomy to express myself and how I see leadership. And ultimately, we were able to grow the team and are still continuing to grow. I think that's really what gave me that opportunity and shot to put myself out there if you will.
Jordan:
I love that answer, not because of the fact that it is necessarily luck and skill and confidence and all of those things that we've already articulated up to this moment, but there is an element of right place, right time, right attitude, that goes into winning RockStar. Winning RockStar does give you a little bit of leadership buy-in. If nothing else, you're definitely a cultural leader. So Angel or Charlie, whichever one of you wants to pipe up first, I'm gonna kick that question over to you. Can you share how winning RockStar gives you a little bit of that leadership street cred?
Charlie:
As far as the nomination and winning RockStar, honestly that is just a really good feeling in and of itself. What led me up to this point, is just really having a very heavily leaned in mindset. I kind of function on a very base level of "if not you, then who?" So when it comes to understanding new sales processes, when there's a new product that rolls out, or there's a new beta, a new system, somebody has got to figure it out so it might as well be me.
I have confidence in my abilities to be able to figure it out, even if it takes me 8 or 10 hours of beating my head against a wall. As soon as I have that experience and I'm able to know and understand that system, that process, how to opt a client into one of those betas or alphas that's brand new, that nobody knows how to do, immediately I take it upon myself to put together a training and a "how to" process, do recordings and send that out to the entire team, run trainings, really just to take that edge off of everybody else. So as far as the "street cred" that that provides, more than anything it just gives me an opportunity to let my peers know that, not only am I always willing and able to help, but that's something I'm going to go out of my way to proactively do every time.
The RockStar award itself, I feel like in some sense that's a token of appreciation for that and extremely motivating just to keep doing what I'm doing and find other opportunities to go above and beyond and provide additional value to the team. It could be in the form of those trainings, in the form of codes, coachings in the form of mentorship, finding opportunities.
Jordan:
I couldn't have said it better myself. It really hits home on what a "Masters of Our Craft" attitude is. Angel, I want to give you plenty of space to answer that question as well. So I'll stop talking now and give you the floor.
Angel:
I was not expecting to receive RockStar at all. I didn't even know that I'd been nominated and the day before the meeting, I was told, Hey, this is what you got, you need to be at this meeting. And it took me back a little, and I don't know why, but it built my confidence even more, which is great. Being on this pilot, there is so much room for growth as we hopefully expand and add more seats, there's going to be room for more leadership. And so I think that added to my resume so that when it comes time for leadership, I can work towards that, which is where I want to go. Being a RockStar for me was more validation of what I'd done and then giving me a little bit more drive to continue that effort, but on an expanded level.
So now I don't just say, Hey, if you need help, reach out, or if someone says, Hey, can you help me? I do it. I make it a point each day to do a check-in, Hey, daily check-in, does anybody need help with anything? We just changed motions in our pilot. We're starting by building a whole new wheel, so to speak. And so it's learning how to build new reports and teach them the team, how to do the new reports and finding who on our team is better suited to do certain aspects, and having them help with that. So, with Sales Force and building those out or with other tools and building out what we need to, I don't just do it all. I found people that are better at one thing than I am and said, Hey, I don't know how to fix this, do you?
And they went out of their way to fix it. And then we worked together to teach everyone else. It's all about the team. And so if I can help others find success, and something that they can excel at within the project, that's where it hits home for me. That's my happy spot.
Nicole:
I see a common thread with the RockStars we have today, and that's being an agent of change on your teams. There was some perceived gap somewhere, and you each just took the reins and took ownership to carry that forward to make the team successful.
Do you have any thoughts on that? What caused you to flip that switch and become that leadership person or the experimental person on your team that allowed you to finally get over that hump, especially on a pilot?
Angel:
It was kind of just needed. I was the one that was most tenured on our team. Everyone was very new to MarketStar. They were very new to the type of motion that we were doing, and I was somewhat familiar with it, so I ran with it. The program needed to succeed, the team needed to succeed. So I just picked it up and did it. There was no one thing that made me go, oh, that's what I gotta do.
I've always been looked at as a team mom, because I mean, I'm 50. Everyone else is much younger. So I was team mom and it just felt natural for me when this new thing started to be like, okay, let's bring in all the team and let's all succeed together. And so the leadership aspect kind of just fell into that for me.
Nicole:
That's cool. I mean, each of your stories are so different, but yet similar at the same time. Charlie, do you have a thought on that?
Charlie:
Yeah. Something that I've experienced over the course of my career is a very marked paradigm shift, because I've always really had a high expectation for myself to be a top performer, to be somebody that everybody looks to as an example... Charlie's the guy that always hits quota. Charlie's the guy that always goes above and beyond. But since being at MarketStar, I've really had a strong shift in my perspective and understanding of what it means to be a top performer. Instead of looking internally and having this high expectation that I need to be the best, I need to be better than the guy that's next to me, I need to be better than the rest of my team, I realized what will make me the best is to also uplift those around me so that my team can be top performers, so that everybody is able to experience that same level of growth and is able to hit bonus.
It's a lot more fulfilling to see everybody around you successful, not obviously exclusively because of what I'm doing, but, in large part, because I'm helping to contribute to the team and their performance and their success. It's definitely a shift in focus that I've had in my professional career. That is really the difference between just somebody who is a top performer and somebody that their peers will recognize as a RockStar, because you really do care about your team's success. You care about the individuals that you work with. If you see somebody struggling, you immediately go to provide any level of assistance that you can possibly provide.
Tyce:
I have an ultra competitive spirit. And so, every job, everything that I do comes with a level of competition where I want to be the best, and I want to make sure that my product and brand is on point. I recently realized an awareness or understanding that I can not only be better for myself, but that I could help the others around me be successful. Something that MarketStar does really well for their teams is what we call our SMEs (Subject Matter Experts). I was all over that title. I thought, I can be an expert in this arena and be a viable resource for my team.
Going around, from team to team,asking what areas of SMEs are in need and where I could jump in and help support was perfect for me. I think that's what ultimately helped me get recognized as a RockStar. It's not just what am I doing for myself, but there's a true, genuine passion for me to help those around me to be successful as well.
Jordan:
Tyce, what you just said is so true. A little bit of background, me and Tyce worked together on an old, old pilot program. We were both young kids. I was wet behind the ears, but Tyce was a veteran here at MarketStar, even by that point. It was so great to work with somebody that would take the time to teach me things that I didn't know walking in. He would do it in such a way that made it feel engaging, that was collaborative, that was back and forth. That gave me a lot of permission to ask the "stupid" question, but it wasn't the stupid question. It was just getting to know the team, getting to know the dynamic, coming to work at MarketStar, getting to know the space. I dare say that a lot of my success was pivoted on some of the hard work that we put in when we launched that team.
Having that presence felt and stepping into that role is so important, not just for you and where you want to go in your career, but for the people that are coming on that are new. I think Angel, you said it best -- being a team Mom. That is the right sort of approach when it comes to stepping into a team, stepping into a pilot, building out something that has sticking power and that can last.
Now, we all experience a little bit of failure in our career, but it's not the failure that matters. It's the bounce back. And RockStars typically have a pretty big bounce back after failure. Let's talk about that for a minute.
Tyce:
I'd love to take this one. This one is personal. I have always coveted the RockStar award. I saw my peers winning that award. I saw myself getting nominated for the award several times, but never able to actually win it.
I took it upon myself to figure out what I was missing. What the heck do I need to do to really become a RockStar? It was a lot of self-awareness because here I was, thinking for years I was the bee's knees. I thought I was doing everything I needed to do to become that RockStar. So I took another double-down approach. I thought, I'm just going to continue doing what I do, but double down on it, make sure that my efforts are being noticed, and make sure that I am putting in my all in every day. Maybe it was just those little things, then I had to go back and calibrate and tweak a little bit, and ultimately, I stayed in it.
I kept my head down, and continued to work hard. And ultimately when that nod came, it was an incredible feeling. It was so rewarding and it felt like I finally got there and now I can take it as a badge of pride. It did take some humility for me to get to that point. And, I want to get better. I've got one under my belt and would love to get a couple more. So I've got to continue to get better and continue to grow.
Charlie:
I'll even take it a couple steps back from that. The opportunities that MarketStar can provide are oftentimes completely out of your area of expertise. So when I first moved to a project in the digital advertising arena, it was brand new for me. I've always had really high expectations of myself, always really wanted to be a top performer. But to be very candid, it is incredibly challenging, learning a completely new industry from the ground up. I immediately was one of those guys that was like, you know what, I want to be a top performer. I've got a pretty big cohort, and I want to be the cream that rises to the top.
I want to be that person that everybody sees and thinks, if he can do it, I guess anybody can do it. It was not necessarily that way to start. It was very, very challenging. I had to have a lot of really strong self talks: "you know what, Charlie, you can do this. Figure out what everybody else is doing that is seeing success and then go do that. If that doesn't work for you, try something else." So it became this constant self-talk of self motivation, and convincing myself that I can in fact do it.
If I didn't have that voice in my head that constantly pushed me to be a better version of myself, without that foundation, I definitely would not be where I'm at today. So, the advice that I can give everybody is, even if you're moving into a pilot program that's brand new, even if you're moving into a new industry, constantly push yourself to be better, and use the opportunities that are given to you. It could be proactively utilizing a lot of the training resources that we have available, constantly focusing on developing yourself. If you do that, you can accomplish absolutely amazing things. Looking back at my career, if I didn't have those moments when I failed miserably and constantly pushed myself to stand back up and try new things, definitely would not be having this conversation right now.
Nicole:
I think that's a really important point. You have to hype yourself back up after a failure and it can be pretty rough depending on what it is. We've all felt that way. But I think that's also a very encouraging factor, especially for new people to take into consideration. They are often starting in the same positions that we all did at MarketStar, with a new team, everything is unsure and maybe this is their first sales job, and we're trying to help them along to succeed, especially in a new program.
So there's all these other factors that are happening at the same time, looking at it from a new employee's perspective. Any new employees can take this to heart... stick with it, there are amazing people that are on your side at support. I know that things can get really discouraging at first and some people might give up if they're not immediately understanding a concept or a sales tip, they might throw up their hands and say, I give up, this is too hard. That can be a real blow to someone's confidence. So knowing the journeys and failures that you three have had, and discussing those freely can be a real confidence boost for someone else.
So we definitely appreciate you telling your comeback stories. What about you angel?
Angel:
So before I came to MarketStar, the company I was with had a program that if you were in the top 10, you got XYZ rewards and I was always coming in at 11 or 12. It was super discouraging because I did everything I could to get up there, but I just never could. Then I moved here and learned about the RockStar program, and there was another program that we had at the time if you were a top performer. So I thought, Okay, well, RockStar is way down the road. I've got to learn all this and get good, but I want that other one.
The first two quarters, I was just barely out of reach. And it was like, oh my gosh, how can I get there? So I sat down with one of our favorite execs, who's all about the four stages of development and pushing people into dissatisfaction so they can learn. He told me, this is how you do it. Don't get discouraged and keep yourself moving forward. You're going to get there, I promise. He gave me some mentoring and showed me some things to do. And I bounced back and I got it. Once I got it, they stopped the program, but that was okay. I got it. And I still have the trophy and I still look at it.
Every time I get discouraged, I look at that and it reminds me that I can do it. Then I set my sights on RockStar and I didn't know until recently that I'd been nominated multiple times. And I'm glad I didn't know, because I think that may have been a bit more discouraging to know how many times that I didn't get it. Finally getting it was super, super validating for me, because all my efforts were seen, I'm seen.
I just would say to anybody who is feeling discouraged and wants to set high goals, you don't have to set it for RockStar right away, set yourself up to be a top performer on your team this month. Then to be a top performer next month, AND to mentor one person. Keep adding those goals so that you can get yourself to the place where you're seeing.
There's a quote that I saw today that said "success is never permanent and failure is never final". That's how I've always looked at things. If I failed, big deal. That's one thing, but there's other things I can succeed at. Or, Yay! I succeeded, now I've got to do more because it can go away. So keep pushing. If anybody listening wants to reach out, please do, I'm happy to talk with anybody anytime about overcoming those dissatisfaction moments.
Nicole:
I really liked that advice. We always put out information about our guests too. So if anybody wants to reach out to them for a chat, they totally can. Jordan, did you have any other questions?
Jordan:
Yeah, I think that my biggest takeaway is that RockStars really live all six of the values. We've touched on Creativity That Drives Impact, Leadership That Inspires, and obviously Masters of Our Craft. What value is most meaningful to you in the journey that you've had at MarketStar?
Angel:
All In Every Day. I'm 100%. I don't do anything 10%, 20%. If I didn't do it that day, then I'm on myself for that. I hold myself accountable for every action and the reactions that follow. I literally go into the day thinking, okay, this is what I have to do. And it's all going to get done. All in every day -- ALL day, every day,
Jordan:
That's such a good value and especially important to win RockStar. I think each one of us needs to live that day in and day out.
Tyce:
I do believe that you have to live all of these values to be a RockStar. But the one that resonates the most for me is You Belong, which may surprise some folks that know me. Like I said, I've been here for 13 years and there wasn't always a platform for me to share my voice and experiences. And I didn't really always feel valued. But a lot has changed with new leadership. I know I belong here and that's what's keeping me here.
Jordan:
After knowing you for as long as I have Tyce, I firmly believe it. That is definitely the one I thought would stand out the most to you. Charlie, what about you?
Charlie:
The big one for me that really ties all of the other characteristics of a RockStar together, is definitely We Care. Because, at the end of the day, you can be a Master of Your Craft. You can be All In Every Day. It can be very easy to be in it for yourself. But if you have that genuine care and concern for your peers, for the people around you, to be better version of versions of themselves, to be able to break down walls that you found challenging and that you were able to overcome, and then being able to pass that knowledge off to your peers and make their lives easier, really is rooted for me in, the fact that I do care about my team.
I care about their success. I care about how easy it is for them to do their jobs. The things that I find challenging and that I found a way to hurdle, my next step is figuring out how I can pass that knowledge on to my team. Without that, I feel like everything else would fall apart. That's what gives me a lot of buy-in. When things become difficult for myself, I continually push through and be a better version of myself for my team.
Nicole:
That's awesome. Well, if anybody listening didn't know before why you are RockStars, they sure know now. You are all very exemplary people and we're so glad to have you on our teams. We appreciate all of your work and the support that you give your individual teams. To win an employee recognition program, like RockStar, is no small thing to do. So we definitely appreciate your time joining us on the show today.
Jordan:
Thank you, each of you. The insights that we learned today were amazing. Each one of you really gave us a reason to want to be RockStars, to set that pace and do the things that are needed in order to truly Live The Six, but specifically be Masters Of Our Craft.