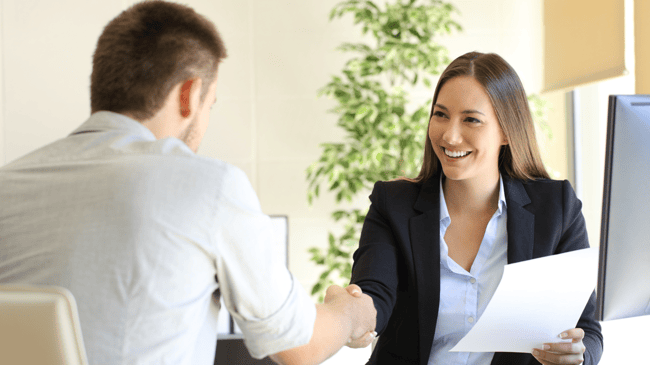 So, you are looking for a new job. Well, you will need a resume. Before you start listing
everything you've done since your first paper route, let's chat about what actually
matters to hiring managers and recruiters.
What is a resume exactly? Basically, it is a one-pager that showcases your skills and
experience to help you land a great job. Whether this is your first time writing a resume
or you are a CV ninja, here are some helpful tips to help you rise to the top of the
applicant list.
What do I include? Great question! Think of a resume as a highlight reel in word form.
This marketing tool should showcase your expertise and experience to show how you
are a perfect fit for the job.
BASIC SECTIONS
When putting your resume together, there are five basic sections you'll want to include:
1. Header
2. Professional Summary
3. Skills
4. Work Experience
5. Education
HEADER
Include the following at the top of your resume:
• First and last name
• Phone number, email address, and city/state
• Ensure your email address is professional: Your.Name@mail.com is great
while ShyCheerleader@hotmail.com should be saved for personal use only.
• LinkedIn profile info
• Personal website or portfolio, if applicable
PROFESSIONAL SUMMARY
There has been some back and forth on whether to include an objective or not. The
number one objective of a job seeker is to land a job. Right? So, taking up valuable
space on your resume to state that you want a job is better served by using a
professional summary or summary statement.
A professional summary is just that—a high level overview of your resume in 3-4
sentences. It should include your most impressive professional accomplishments as
well as relevant hard and soft skills that showcase the rockstar you truly are.
WORK EXPERIENCE
Before you start listing your work experience and skills, READ the job description
carefully to determine what the hiring manager is looking for. Then, you can craft your
resume to reflect your top qualities.
A good rule of thumb is to include the last 10 or so years of applicable work experience
with 3–4 bullets of specific information. Less is more in this case. Recruiters and hiring
managers should be able to quickly glance at your skills and not have to read through
pages and pages of generic tasks. A resume should be 1-2 pages at the very most.
How do I format past work experience? List the company name, title you held, dates
of employment, and location. This information is super helpful when a recruiter or hiring
manager skims your resume for the first time. Keep the formatting consistent and make
sure it's easy to read.

• Use 3-4 bullets for each position that reflects applicable work experience.
• DO NOT copy and paste the CV for your last job. Highlight important job duties
you had that are relevant to the job you're applying for. Do not list every task you
ever did.
• Share data/numbers of big accomplishments.
Download a free resume template here as a word file or a pdf!
SKILLS
Your professional and academic experience may show you have the technical aspects
to get the job done but your skills will show us how qualified you are for the role.
• Hard/Technical Skills are quantifiable competencies or techniques that can be
backed up by education, technical, or professional credentials. Examples include
software certification, project management, language competency, CSS/HTML,
DBA, software programs (Adobe, Microsoft Office, SalesForce), SEO, SEM, etc.
• Soft Skills are personal attributes that make you an awesome human. Examples
include organization skills, creative thinking, problem solving skills, leadership,
time management, and communications skills. These may be difficult to teach but
they're skills that make you a highly sought-after individual (and great coworker).
EDUCATION
Include the following for each school you've attended:
• Full name
• Date (or anticipated date) of graduation
• Type and title of your degree(s) and/or certification(s)
• Awards or distinguished achievements, if applicable
FORMATTING
Now that we have the basics down, you will want to figure out how to format this
information. Focus on making sure your resume is easy to read and understand. If you
decide to opt for a "design", keep it simple.
✨PRO TIP ✨ Save your resume as a PDF to maintain the integrity of the formatting.
(REVERSE) CHRONOLOGICAL
This is the fan favorite of recruiters! Interested in your "work story", the reverse
chronological format makes it easy to see your career advancement at-a-glance. Use
this format if you have a strong career trajectory, consistent work history, or if you've
held the same title but in a different industry (i.e. Sales Manager for a cell phone
dealer and Sales Manager at an auto dealership).
Be sure to include the following: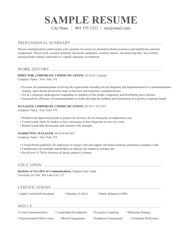 1. Header (name and contact info)
2. Professional Summary
3. Work Experience (start with your current/
most recent position work backward.)
4. Education
5. Certifications/Awards, if applicable
6. Skills
FUNCTIONAL
This type of format is heavy on skills and light on experience. It is perfect for job
seekers with little to no work experience, applicants with job history gaps, temp/gig
workers and freelancers, and those looking to make a career change.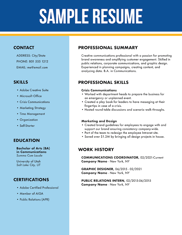 Be sure to include the following:
1. Header (name and contact info)
2. Summary Statement
3. Skills
4. Professional Skills
5. Work Experience
6. Education
7. Certifications/Awards, if applicable
COMBINATION
The combination or hybrid resume format allows job seekers to feature their greatest
qualifications and strengths in addition to their work experience. This format is great
for pretty much anyone to show off a stellar work history and impressive skills. If you
have gaps in work history or little to no experience, stick with a functional format.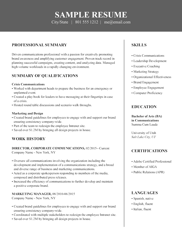 Be sure to include the following:
1. Header (name and contact info)
2. Professional Summary
3. Summary of Qualifications
4. Key Skills
5. Work Experience
6. Education
7. Certifications/Awards, if applicable
FINISHING TOUCHES
Now that the hard part is done, it's time to put on the finishing touches.
What font should I use? Helvetica, Arial, and Times Roman are all good choices.
Leave stylized fonts like Papyrus or Comic Sans for other projects. Speaking of fonts,
make sure your font size is 11-12 pt. for easy reading. Headings and section titles can
be larger at 14-16 pt. in bold. Please choose only one font for a consistent, clean look.
• Oversaw all communications involving the organization including the development and implementation of a communications strategy, and a broad and diverse range of business and marketing communications.
• Increased the efficiency of communications to further develop the building and maintaining of a positive corporate brand.
Sweat the small stuff! Use the spelling and grammar check features in your word
processing program to give everything a good once over. Then, put some time in
between you and your resume by stepping away. By looking at it the next day with fresh
eyes, you will be able to catch any mistakes you may have missed.
Proofread then proofread again. Even if you are the most qualified candidate, typos and
grammatical errors will drop you to the bottom of the list in the blink of an eye.
✨PRO TIP ✨ Read your resume backward, from the bottom up, and from right to left.
When proofing, ensure you use the same tense throughout. Double check little words
(like "it" and "if", "of" and "on", etc.). Check possessive/contractions like "they're", "their",
"there", "you're" and "your". These little things really do matter!
Finally, have someone else proofread before you post.
Now, get out there and knock 'em dead! Best of luck in your job search.
Download a free resume template here as a word file or a pdf!
To leave us your resume, apply to one of our many open positions at www.marketstar.com/careers/job-openings