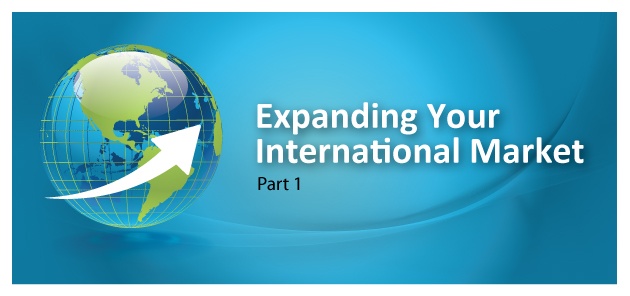 I've worked in international sales for many years, and wanted to share my learnings with those looking to expand their brand presence outside of the United States. This series will do just that. To start, I wanted to explain what I've learned helping other large brands expand internationally.
Expanding sales to an international scale can be a daunting, intimidating idea for many sales managers. But it really isn't as difficult as it seems. However, it can be time consuming. With the right strategy, tools, people, and cultural understanding you can create an international sales program that plays a large role in sales stability and growth. When pursuing sales abroad, there are three important factors to analyze:
1. Time is of the essence: when to pursue international sales.
When should you pursue international sales? The answer is: when you're ready for increased stability or additional revenue sources. There is a big advantage to having your business in multiple economic regions, because it contributes to a balanced revenue stream, steady growth, and even an influx of cash. For example, say one country experiences a decline in business cycle, while another country may be thriving. If you have a presence in several countries at once, you can mitigate potential risks by diversifying in several markets. I typically recommend that at least 30 percent of a company's revenue come from international sources. We all know the United States is a top market for sales. But if you have a decent percentage of your company running internationally, you have other revenue pockets you can tap into. You can choose to grow or move depending on your success in these economies.
2. Inhibitors: time-proven learnings from failure.
There are two major contributing factors for failing in international markets. The first is hiring the wrong individuals. The second is the lack of personal and business culture understanding. I cannot stress the importance of these concepts enough. Many organizations hire people with language skills, and don't look much beyond that. Consider it this way. You wouldn't gauge an employee's performance solely on their ability to speak English fluently in the United States. Thus, from my experience with international sales, linguistic skills are a small percentage of what makes a successful international business endeavor. The lion's share of success comes from a deep understanding and keen knowledge of the cultural standards. The best reps are those who are well-trained, knowledgeable, and relatable. Cultural diversity is an excellent tool in growing your international brand.
3. Testing the waters: where to begin your international sales program.
So, you've hired the right people and you now have the sales model, capital, and inventory to start selling in international markets. Obviously, you need to determine the best location to begin selling. But if you don't have any direct, natural connecting points to international business, this can be a difficult decision. In this instance, might I recommend two regions where you can test your international brand: Mexico and Puerto Rico. These regions create a simple, practical environment for many reasons. First, they provide easy access for companies based out of the United States. A hop, skip, and a jump away – these locations are easy to reach and are familiar with American business. They do sales similar to how we do sales, with some cultural differences. They are used to the "now, now, now" and "sell, sell, sell" mentality. You can learn many things in these regions, while still risking very little. Many people ask why I don't recommend experimenting with international sales in Miami at first. It's pretty simple. Since Miami is still located in the United States, avoiding the Miami test is important because it will allow you to better understand cultural differences and your international sales potential.
Now that I've created a baseline for what you should consider before pursuing international sales, keep an eye out for the next part to my series on specific regions where you should place your sales strategy.