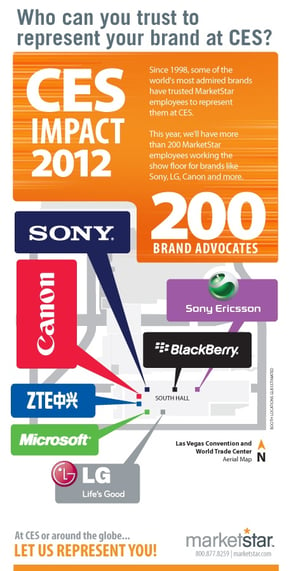 At 45 years running, an average of 140,000 attendees, and 18 days to set up, run and take down, the International Consumer Electronics Show (CES) is heralded as the largest technology show in the United States.
This year's show will run Jan. 9-13, and despite some company withdrawals, it is still projected to be one of the largest in history, attracting more than 149,000 attendees (nipping at the heels of the largest CES show on record — 152,000 in 2006). Show-goers know it's critical to make an impression at the busy CES showroom. This year, the floor will house 2,700 exhibitors stretched over an exhibit hall larger than 1.8 million square feet. Exhibitor displays, technology reveals, and uniquely branded experiences become more extraordinary and effective every year.
We are proud to once again represent the world's largest brands at this show and throughout 2012 at retail locations and other events worldwide. Our expert sales and training professionals, known as Brand Advocates, will number more than 200 on the show floor this year. This is a new record for MarketStar at CES and evidence of our clients' trust in our world-class brand advocates. Not only do brand advocates achieve results at CES, but year after year they drive results through training retail sales associates, assisted sales, event marketing, and a variety of other activities that impact the bottom line.
While everyone is looking forward to the all the buzz at CES — ultrabooks, smarter cars, next-gen game consoles, OLED TVs and all-new tablets (to name a few) — we also look forward to meeting with our long-time, much-loved clients and representing their remarkable products on the showroom floor!
We would love to introduce you to MarketStar. Let us give you a free ride around the hustle and bustle of CES! The MarketStar Limo will get you where you need to go without the hassle of waiting in long taxi lines. From the airport to your hotel? No problem. From the conference center to a restaurant? Our pleasure. Click here to request your limo ride.