I spent two days last week at the ASCII Success Summit in lovely Newport Beach, Calif. The event itself is an opportunity for VARs and MSPs on the West Coast to mingle with many large manufacturers like HP, Microsoft and Cisco. It's also a great way to learn about new opportunities and technologies, and talk among themselves about where the channel is headed.
Thursday morning's opening panel was a discussion on what opportunities the Cloud (and cloud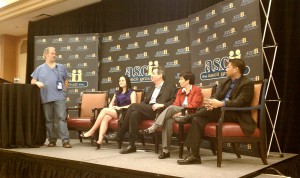 services) provide for VARs and MSPs. What began as a light discussion on features and benefits of the Cloud quickly turned into a deep discussion on what exactly the cloud means and what value the cloud is to a reseller.
First things first -- the cloud is many things to many different people. It is anything that can be done over the Internet; it is anything collaborative in a virtual environment; it is the merging of software, platform and hardware; it is the ability to remove on-site hardware and replace it with something over the Internet; it is platform, infrastructure, software as a service. It's all of these things.
But to some resellers, the cloud is also a threat.
Several comments were made about how the cloud COULD allow a manufacturer to jettison resellers, simply because if a cloud is centrally based, there is no need for a remote support entity (a VAR/MSP). It also was suggested that cloud services render a reseller irrelevant because a small business can now launch a robust IT solution internally without investment or infrastructure (i.e. Google Apps, Google Voice, Gmail).
Personally, I see where they are coming from. Small businesses are under a massive assault by bigger fish moving into their ponds -- kind of like Walmart swallowing up smaller shops all around their new mega-stores. But the one thing these VARs and MSPs need to understand is they actually hold more value than they think.
One of the panelists was J.J. Antequino from Microsoft. J.J. made the point that a large company like Microsoft depends on the channel to build revenue. Around 90 percent of Microsoft's B2B revenue flows through channel partners, so that number OBVIOUSLY demonstrates how committed the Redmond giant is to the channel. Hardly a Walmart scenario, even though Microsoft is comparable to Microsoft in size -- and polarizing nature.
The way I see it, a reseller is like a fine restaurant. I can go out and buy rice, bread, vegetables and meat, put it all together and make a meal -- it's not overly hard to do and actually cheaper in the long run. But, sometimes I just don't want to have to deal with the hassle of finding a recipe, collecting the groceries and then cooking everything up myself. And heaven knows I can ALWAYS find someone who can make it taste better. So what do I do? I go to a restaurant, look at the menu, order up and enjoy the meal. Anyone can cook rice, but only a chef can really make the meal sing. This is what resellers do. They take all the ingredients, build a wonderful banquet of services and solutions, and serve it up in a glorious meal. VARs and MSPs are the ones who make IT services palatable for everyone, and they'll do the same with the cloud.
The key for resellers is to provide the whole solution -- packaged, optimized, prepared and featuring all the necessary preparation and support. The cloud will be what the channel wants it to be, and the resellers will dictate this. They just need to learn how to cook it up and serve it with the right gusto.
Then they can sit back and wait for people to come back for seconds.