Every year the Marketo Revvie Award howcases Marketo customers, individual marketers, and partners who leverage Marketo to drive next generation marketing with unprecedented results. This year, Marketo received a record number of submissions in 16 categories of which MarketStar was awarded a finalist and overall winner in the "Digital Agency Superstar" category.
Marketo defines a Digital Agency Superstar as a Managed Service Provider (MSP) responsible for managing multiple client campaigns and millions of customer engagements. The category recognizes the partner who consistently delivers service excellence running Marketo for their clients. It also looks for submissions that share the value provided to clients and how organizations are empowering them to achieve their customer acquisition, retention, and loyalty goals.
MarketStar's submission focused on the efforts and successes with our partner automation solution that: revitalizes partners, strengthens reseller relationships, and increases revenue. Our solution combines email, content, marketing automation technology, and our channel Sales Specialists to cover partners that are typically ignored.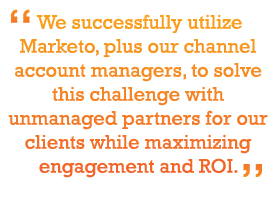 "MarketStar knows that managing a large population of partners and resellers with personal channel account management can be arduous at best and chaotic at worst," said Vaughn Aust, EVP Integrated Solutions at MarketStar. "We successfully utilize Marketo, plus our channel account managers, to solve this challenge with unmanaged partners for our clients while maximizing engagement and ROI. This allows them to reach partners with consistent and strategic messaging, effectively progressing them from unmanaged partner status to valued revenue generator. MarketStar is honored to be a Revvie Award Winner and we look forward to The Marketing Nation Summit."
The Revvie Award Ceremony will take place next week during Marketo's Marketing Nation Summit in San Francisco, California. Look for MarketStar's blog post after the ceremony highlighting pictures and updates from the event.