When creative power and analytical prowess combine, magic happens. Here at MarketStar, we believe the intersection of science and art is the sweet spot for marketing impact. In fact, we love this concept so much, last year our Marketing Director designed a Beginner's Guide to Science. Art. Impact. Our global team of marketing and sales professionals bring together a collective strength of creativity and intelligence, proven over 25 years of measurable, innovative sales and marketing solutions.
In a rapidly changing business landscape, the evolution of marketing and IT has led some companies to (drumroll, please....) even combine the two into ONE department. Sheryl Pattek, VP-principal analyst at Forrester Research was reported recently in BtoB magazine to have said, the "ability to track marketing ROI through technology is the most important change contributing to the evolution of the marketing profession."
Our friends at Salesforce and Pardot also see the magic of blending marketing and technology, illustrated well in their recent infographic shown below. Part artist, part scientist, the modern marketer must have both the capacity to persuade intelligently with relevant content, while navigating campaign results into actionable steps.
Which do you consider yourself: scientist, artist, or both?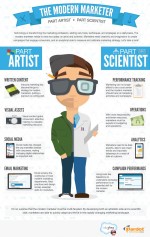 Infographic credit: Originally posted on the Salesforce blog