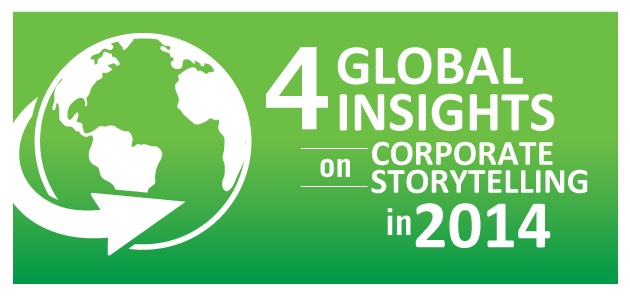 How can brands make their mark in the tidal wave of social media and omnipresent mobile devices? From the campfire tales of caveman days to shareable tweets of 2014, one constant remains: We're all drawn to a good story. Corporations who tell their story well can win the hearts (and market share) of their customers, employees, and stakeholders.
I also love a good story. I heard quite a few recently at the 2014 CCI Conference on Corporate Communication, held in Hong Kong, where I presented the findings of my master's thesis. Sponsored by companies like Pfizer, Honeywell, and Johnson & Johnson, the conference offered a bridge between corporate communication theory and practice. More than 25 nations were represented by communication leaders, students, and scholars, and we shared our research and passion for communication. I soaked it up, bringing back ideas for my role as Social Community Manager at MarketStar, our platform for internal communication. Here are four useful corporate storytelling insights – shared by folks from four different countries.
1. Recognize the Power of #Moments in Marketing
"Brands don't have target markets, but target moments," said Lisa Wang, of Twitter's Sales Operations in Singapore. She shared how Twitter contributes to a sense of universal connectivity. I had no idea about Twitter's scope and international presence. Did you know 75% of Twitter's 225 million users live outside the United States? Or of the 43 million viewers watching the Oscars, 36 million of them were tweeting?
With Twitter being such a live, public, and conversational platform, there are opportunities for brands to connect with their customers directly. Wang shared clever examples, like Arby's calling for Pharrell Williams to give back their hat during the Grammy's, and Kit Kat posting a tic-tac-toe game for Oreo to compete for the heart of #chocolate fan. With a little creativity, companies can hone in on the right times (target moments) to tell their story.
2. Empower Employees to (Positively) Tell Your Story
In addition to representing organizations officially through corporate social accounts, there's an opportunity (or possible threat) for employees to be storytellers. Joost Verhoeven, assistant professor and researcher from the Netherlands, shared his research about the consequences of employees' work-related social media use. This means the posts, tweets, etc., shared on personal accounts about experiences as an employee.
Verhoeven found employees use social media to construct, negotiate, and express their identity. His research also indicated publics are much more skeptic, and there is an increased need for authentic, human voice. Corporate communication takeaway? Organizational leaders who understand their story and articulate their culture internally can be rewarded by employees sharing their positive experiences.
3. Establish Credibility in Corporate Writing
"In a time-starved Internet world, where everyone's a writer and everyone's a reader, the demand for literacy is more intense than it has ever been." Isn't that the truth? This insight came from award-winning associate professor Roslyn Petelin, Ph.D., of Australia, who hosted a writing workshop. In a nutshell, details can make or break corporate credibility. Yes, grammar still matters. After all, how much would you trust an organization with blaring misspellings on their packaging, or the misuse of "you're" on a corporate website?
Pardon the word nerd, but I couldn't help but feel something akin to glee as Petelin offered specific advice on the word and sentence level. For example, she advised to "avoid 'and-ness'" meaning bulking up sentences with too many "ands." She encouraged picturing the reader in one's mind while writing – even creating a reader profile – and helping readers through a reading path. Overall, make sure to ask "So what?" at every stage of writing. This keeps the story relevant.
4. Create Strong Bonds with Customers
John Santoro, currently VP, Executive Communications, with Pfizer's Policy, External Affairs and Communications Group, based in the United States, shared a motto I haven't been able to stop thinking about: "If you get to know us, you begin to like us. If you begin to like us, you begin to trust us." In the corporate communication realm, trust starts with getting to know an organization. How? Tell stories. Santoro shared "stories help organizations illuminate their visions and their pathways to a vision," and they "provide a 'heritage' for new employees."
Verbalizing a story provides a different experience than sharing one in written word. Santoro advised keeping spoken stories to three minutes max, speaking simply, and asking yourself three questions: How do you want people to feel? What do you want them to remember? What do you want them to do?
At MarketStar, we help brands share their story. Check out our sparkley new website to learn more.