Fans of "Ferris Bueller's Day Off" will no doubt remember the 1961 Ferrari 250 GT California that plays such a memorable role in the film. Upon Cameron wrecking the car behind his father's garage, Ferris quips: "It's his fault he didn't lock the garage." This line perfectly captures the nonchalant carpe diem attitude of Ferris Bueller—a fast, beautiful car must be driven on a beautiful spring day off from school. Aberdeen's research suggests that more marketers need to capture this spirit, though perhaps a bit less recklessly, and take their marketing automation Ferraris out for a spin.
"Doing more with less," or more with the same, is certainly a cliché, but it's a cliché for a reason; it's the reality for the majority of firms. Perhaps driven by the lean growth mantra that risks becoming the new normal, 44% of companies in Aberdeen's July 2012 Marketing Lead Management study said this budgetary stress was a top pressure driving their focus on marketing lead management. This reality means that firms must squeeze as much value as possible from their demand generation programs as possible - from smart execution of targeted programs at the top of the funnel, to lead nurturing and scoring mid-funnel. That's why many are turning to marketing automation software to support greater lead management efficiency.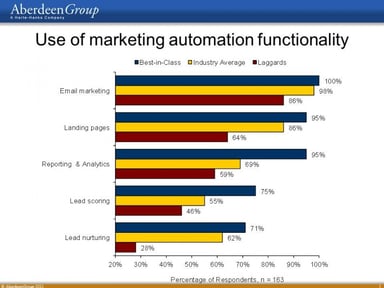 Sixty-three percent (63%) of Best-in-Class companies in our study—top performers in terms of marketing and sales alignment, and marketing's contribution to sales-forecasted pipeline and revenue— use marketing automation, compared with 40% of industry average and 36% of Laggards. But use of marketing automation technology itself doesn't guarantee success. Unfortunately, turning on the functionality of these systems isn't quite as easy as turning the key on that '61 Ferrari.
We see two important trends in the research:
While core functionality of email distribution and landing page generation is high, use of more "sophisticated" marketing automation functionality, particularly lead scoring and nurturing, drops off considerably for all companies
Best-in-Class companies are more likely to utilize these more sophisticated functionalities.
In other words, Best-in-Class firms are achieving higher utilization of the marketing automation systems from a functional perspective. These firms are also significantly more likely to have the foundations of marketing lead management in place: well-defined, documented processes, common definition of a lead across marketing and sales, etc. The correlation is not accidental. The lack of mature marketing processes may be holding companies' marketing automation utilization back, particularly when it comes to organizational alignment between marketing and sales. Marketing automation may help expose these gaps through better reporting and a focus on the underlying processes, but until they're addressed these engines of marketing are likely to stay stuck in first gear.
Register for the Webinar
Best-in-Class Lead Hunters
How to immunize your lead management from zombie leads

Date: Thursday, December 6, 2012
Time: 1:00 PM Eastern, 10 AM Pacific
Description: Join MarketStar and Schneider Electric to discuss why best-in-class companies require 20 times less marketing generated leads to create one customer. In this webinar you will learn about best practices and requirements to move beyond basic marketing automation to reduce the number of dead leads and successfully nurture zombie leads back to life.
Speakers: MarketStar and Schneider Electric
[pardot-form id="28756" title="2012 Lead Management Webinar"]