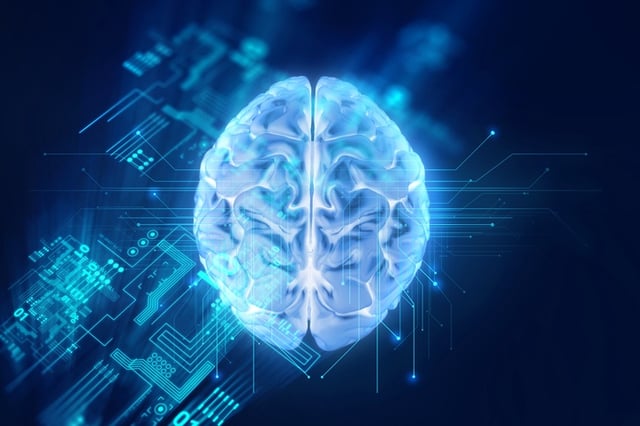 Augmenting human work with tools and technology is by no means a new concept. While machines have worked to improve human efficiency since the industrial revolution, these days, AI has become truly intelligent, as machines can recreate complex tasks. And the increasingly complex B2B sales landscape has started to leverage AI to improve the sales processes.
As smart as AI has become, it's important to note that humans have "sapience," a concept that encompasses wisdom, knowledge, experience, empathy, and creative insight, according to a recent Forbes article. In other words, B2B sales requires specialized knowledge, and before AI can enter truly contribute to sales efficiency, humans must coordinate and implement processes.
In the context of the B2B sales landscape, artificial intelligence is not the byproduct of a post-apocalyptic, science-fiction film. Instead, it's a collection of incredibly useful tools that can augment your sales team—not replace them. From gathering information on customers and prospects to tracking customer service requests, technology can help automate the numerous administrative tasks that reps perform daily.
Below are several situations in which sales technology tools are evolving.
Natural Language Processing and Predictive Analytics
Over the past decade, data science has influenced industries and verticals such as politics, consumer credit, health care, and professional sports. Sales has embraced the concept and is beginning to utilize predictive analytics to make it easier to assess prospect interest, project weekly and monthly numbers, and gain insight into how reps are performing.
These days, "predictive analytics" is virtually synonymous with AI in sales, mainly because it's been proven to work. In fact, high-performing sales teams are four times more likely to use predictive analytics to augment how they sell. Through data mining, machine learning, and statistics, AI can extract complex information from data sets to determine trends and predict outcomes.
One application is email sentiment, in which AI uses natural language processing to detect whether an email contains any negative sentiment and if a deal may be in jeopardy. Another way that AI helps sales is through forecasting, in which tools can estimate the win and close dates of your deals based on previous data and performance patterns.
Chatbots and Customer Service
AI can also greatly improve customer service. Often, the focus on individual customers decreases after a sale has been completed. Follow-ups are overlooked, and customer contact reduces. The task of keeping track of customer satisfaction or product problems is time-consuming for reps—but can be automatically executed by AI technology. AI can gather and organize all the data from new purchases, track customer satisfaction, and check in regularly with customers.
AI can also increase customer service through automated chatbots. While it's true that many customers still prefer to talk to a real person via telephone for complicated and sensitive issues and complaints, AI can automate simpler requests. Through email features and live chatbots, sales teams can provide customers with automated, simple information. AI can also filter through requests so that customer service teams can organize and classify information.
Combining Artificial and Human Intelligence
Ultimately, AI can help improve customer service and sales processes by automating small, tedious tasks, so that reps can focus on what really matters: providing stellar service to their customers. Despite the obvious benefits of AI, it's still essential to have a sales process outlined. Although AI can improvedata collection, you still need to outline the exact steps to take to move a deal from one stage to the next.
AI is not a substitute for living, breathing salespeople; this technology instead complements their day-to-day tasks, helping them to become more efficient, and freeing up their time to focus on selling. While we may be living in the future of sales, it's still important to recruit, enable, and retain the right salespeople for your organization.