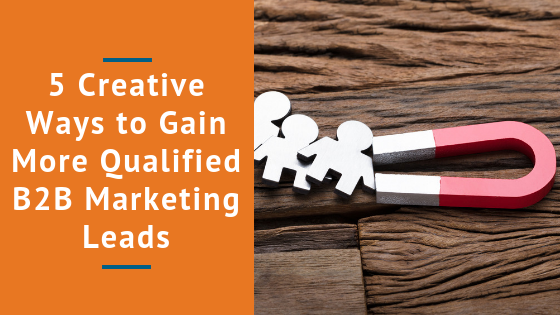 In the world of B2B sales, chasing down qualified B2B leads can be the most frustrating part of any sales rep's job, but it's also one of the most important. You need those B2B leads to keep the pipeline full and achieve your sales goals. The truth is that B2B prospects aren't really harder to find; they have just become more discriminating. Today's customers are better informed and busier than ever, so you need to adopt more creative strategies to attract qualified B2B leads.

Lead generation is still the toughest marketing challenge, according to 65 percent of companies surveyed by HubSpot. The fact is that 93 percent of B2B customers start the buying process with an online search but 96 percent of visitors to your website aren't ready to buy yet. In fact, most B2B buyers will conduct between 8-12 online searches before they are ready to talk to a sales rep, and by then, they are 57 percent through the buying process. What these statistics tell you is that B2B prospects prefer to do their own research rather than being sold, and your best lead generation strategy is to provide the information they need to help them make a buying decision that favors your company.
Tools to Attract B2B Leads
Today's B2B lead generation requires tools to attract and educate prospects, nurture those leads until they are ready to buy. B2B customers are largely self-selecting, having already ticked off a number of criteria on their checklist before they are ready to engage, so you want to keep them coming back for fresh information.
To educate and nurture these better-informed B2B leads, companies are adopting various strategies:
Generating qualified B2B leads can be tricky and often frustrating, which is why many sales organizations outsource B2B lead generation. With the right sales support partner, you can create a highly effective lead generation program that includes content marketing, nurturing high-value prospects and creating a contact cadence that is sure to deliver results. B2B lead generation and qualification are two of MarketStar's specialties, so please feel free to contact us to see how we can help you build your sales pipeline.